Online Market
PUBLISHED — 28th, March 2020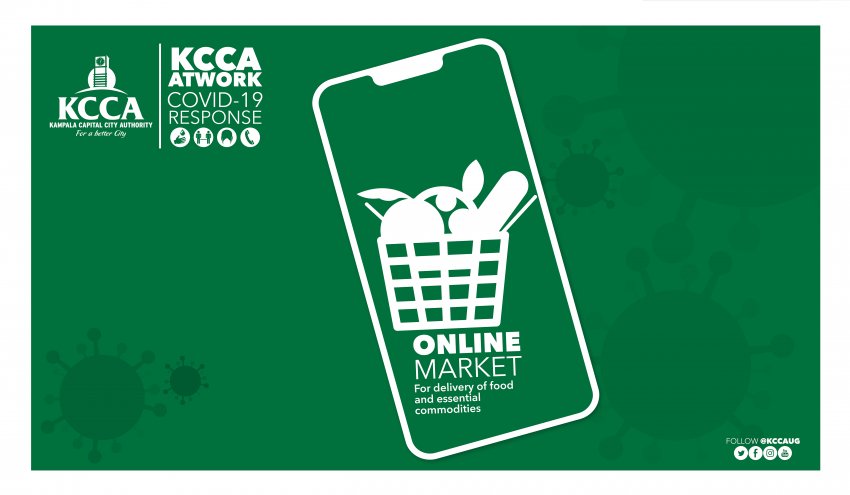 In line with the president's directive to scale down the population of vendors trading in the markets by allowing only sale of foodstuffs in order to curb the spread of Covid-19, KCCA has put in place a mechanism for delivery of essential commodities to homes.
This method of shopping is being encouraged because it will reduce congestion in markets. Markets are areas of mass concentration, which favor transmission of the virus.
Secondly, it will ensure a constant supply of food and other essential commodities to the consumer in a safe and orderly manner.
Thirdly, in the event of a total lockdown, the livelihood of vendors will not be severely affected.
1). The home delivery options
The following are the options available for the public to choose from
If you have a regular market vendor from whom you have been buying food, you can generate your list, request her/him to do the shopping for you and get the boda boda guy to deliver the items home.

If you have a regular person who has been shopping for you, you can continue using that one but get a reliable transporter to deliver the items to your home.

If you have no regular contact in the market but need assistance on how to do shopping without physically going to the market, you can contact any of the market leaders whose numbers have been listed below.

There is also the option of boda bodas operating under digital transport (Uber, Jumia, Safeboda, Bolt etc.). KCCA has engaged these companies and they are ready to continue providing online purchase and delivery of food and other essential commodities
NB. WE ARE ENCOURAGING THE PUBLIC TO USE THESE ONLINE DELIVERY OPTIONS AS MUCH AS POSSIBLE TO MINIMIZE MOVEMENT, INTERFACE WITH OTHER PEOPLE AND ENHANCE SAFETY FOR BOTH THE MARKET VENDORS AND THE GENERAL PUBLIC.
2). Payment
Payment by mobile money will be the preferred mode of payment.
3).Supply of food to the city
We are encouraging our regular suppliers of food to the city to continue bringing food into the city to ensure there is a regular and adequate supply to the homes
4). Safe guards
Approved Standard Operating Procedures (SOPs) will be observed during the entire transaction process to ensure minimum/no contact and safety.
5). Numbers for Market contact persons
Market

Name

Title/Section

Contacts

Wandegeya

Derick Kulubya

Market Publicity

0782580893

Grace Akiki

Vegetable Section

0701990543

Mugisha Herbert

Fish Section

0752816490

Susan Nabakiibi

Team Leader Cooked Food

0776947114

Nakasero

Semakula Abdul

Restaurants/Vegetables

0757686813

Asiimwe Deo

Chicken/Meat Section

0776488030

Sempijja Bismak

Security Leader

0701594141

Asiimwe Stephen

Chicken/Irish & Sweet potatoes

0750792264

Fred Ochieng

Cereals

0776312675

Atedu Florence

Fruits/Matoke, Onions and Tomatoes

0755559397

Nakawa market

Ruth Namuyiga

Section Leader Matooke

0701618537

Apio Veronica

Produce Section

0706103615

Sula Kizito

Market Boda Boda Leader

0754504907

Mpoza William

Fruits

0702417339

Catherine Nanzige

Fruits

0702246380

Busega

Bugembe Charles

Produce Section

0753015626

Disan Kiryowa

Publicity/Matooke

0704810808

Magala Francis

Fish Section

0753487910

Nalwanga Lwanga

Matooke Section Leader

0702846701

Kabunga Yasin

Produce Section

0752805072

St Balukudembe

Luzinda Jamada

Fruits Section

0701837593

Mugenyi Robinson

Produce Section

0772419956

Nakayemba Jacent

Ingredients

0752401026

Nabirye Jane

Tomato/Onion Section

0752620318

Senyodwa Jackson

0772346234

Kiwanuka Dan

Cooked Food Section

0752529416

Dan Kasasa

0788590499

Sewalu Suleiman

Matooke Section

0782648026

Ssenyonjo Livingstone

Tomatoes/Vegetables

0776800701

Usafi

Stephen Sentongo

Fresh Produce Section

0772413283

Namukangula Mansul

Cowpeas/Beans

0704903915

Kalanzi Grace

Cowpeas/Beans

0755660228

Jackson Tumulamye

Matooke Section

0705702685

Nansubuga Tina

Fruits and Tomatoes

0750004636

Bugolobi

Mata Thierry

Fruits & Vegetables

0770880504

Oliva Nyakaisiki

Matooke Section

0772556273

Tumwine Geofrey

Cereals

0772856190

Zikusoka Mbazira

Cereals

0772521126

Balikulungi Lilian

Fruits & Vegetables

0757059516
Muluya

Badru Katende

Market

0753877628

Bivamuntuyo

Sula Gidongo

Vice Chairman

0759570477

Kambaki Emma

Produce Section

0774506281

Nakirinya Betty

Cereals

0703063668

Zaituni Mukalakaasa

Matooke Section

0703493843

Nkangi

Tomatoes/Onions

0758543300

Nsereko

Fruits

0753535501

Mutebi Kajubi

Amula Bwogi

Market Chairman

0706125014

Freedom

Saidi

Market Chairman

0751983192

Bwaise 1 Mkt

Ssonko Lameck

Market Chairman

0752433224

Namuwongo 1

Wayibi Geofrey

Market Chairman

0774625439

Namuwongo 2

Ntege Adam

Market Chairman

0782370210

Ggaba Market

Sabiti Katuramu

Market Chairman

0772337504

Kabalagala Market

Nimanya Judith

Market Chairman

0782710649

Munyonyo (Mulungu)

Nakazz Saidi

Market Chairman

0782943187

Makindye Modern

Joseph Kalega

Market Chairman

0774185748

Makindye Namasole

Zzimbe John

Market Chairman

0774423520

Katwe

Yawe John

Market Chairman

0772398224

Bunga

Akello Dorcas

Market Chairman

0708301935

Natete

Donny Kabugo

Market Chairman

0751953077

Kibuye

Namisango Justine

Market Chairman

0751665273

Kasubi

Zzibu Ronald

Market Chairman

0705578842

Nakulabye

Sonko Lamek

Market Chairman

0752433224

Banda Market

Abdu

Market Chairman

0703580031

Luzira Market

Doreen

Market Chairman

0756275754

Kitintale Market

Kigundu

Market Chairman

0782528962

Kiswa Market

Taremwa

Market Chairman

0704969643
For any Complaints and Enquiries, please call the numbers below
Institution

Name

Title

Number

Wandegeya Market

Gita Jonathan

0702431422

0772431422

St Balikudembe

Godfrey Kayongo

Chairman

0702426597

Usafi

Haji Musa Muleme

Chairman

0755500809

Nakawa

Charles Okuni

Chairman

0706691072

Busega Market

Disan Kiryowa

Chairman

0704810808

Bugolobi

Esther Kasobya

Market Administrator

0701155798

All the market chairmen listed above
For more information, call our Toll Free Line: 0800 99 00 00, email: info@kcca.go.ug and stay informed 24/7 via our Social Media sites @KCCAUG