Kampala, a member of Africa Smart Towns Network (ASToN)
Kampala City edged 12 African Cities to claim a lead City role in the Africa Smart Towns Network. It was selected as the lead City among the Twelve (12) African cities in the Africa Smart Towns Network (ASToN).
This followed a competitive submission to the call for applications organized by the French Development Agency (AFD).
The other African cities include;
Algiers (Algeria)
Bamako (Mali)
Ben Guerir (Morocco)
Bizerte (Tunisia)
Kampala (Uganda)
Kigali (Rwanda)
Kumasi (Ghana)
Lagos (Nigeria)
Maputo-Matola (Mozambique)
Niamey (Niger)
Nouakchott (Mauritania)
Sèmè-Kpodji (Benin)
KCCA placed a strong emphasis on automation of processes in service delivery like Revenue Management System (e-Citie), Smart Permits, Traffic Control Centre, Digital Communication among others.
This nomination reaffirms our commitment to harnessing the power of digital towards improved service delivery. As the lead City, Kampala plays a key role in sharing experiences with other Cities on best practices across all service areas.
AFD financed the creation of this network of African cities around Smart City issues (African Smart Towns Network - ASToN), following the method set up by the European URBACT programme which promotes exchanges and cooperation between cities within thematic networks at the European level. Nearly 1,000 European cities and more than 10,000 local actors have participated in URBACT I (2002-2006), II (2007-2013) and III (2014-2020) activities.
The project was launched in October 2019 and its activities are expected to go on for 3 years.
ASToN thematic areas from different Cities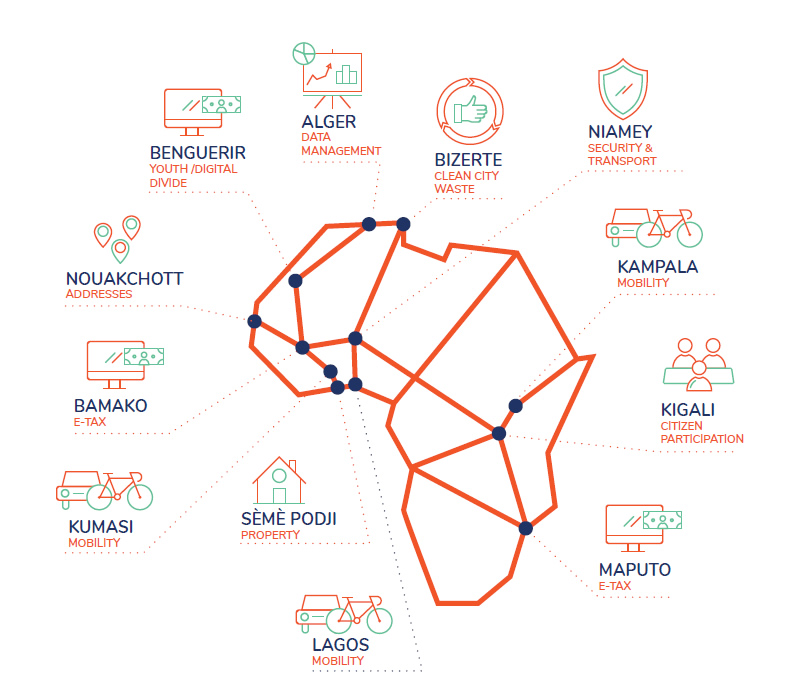 ASToN LINKS
Why ASToN
Providing Cities with packages of resources and support to develop their vision. The aim is to build capacities within the cities' local administration.
Enabling Cities to learn from each other and exchange expertise.

Photo Gallaries
Do you have any solutions towards MOBILITY Challenge in Kampala? Send us an email at info@kcca.go.ug