Landowners Permit Road Construction at No Cost
PUBLISHED — 27th, June 2017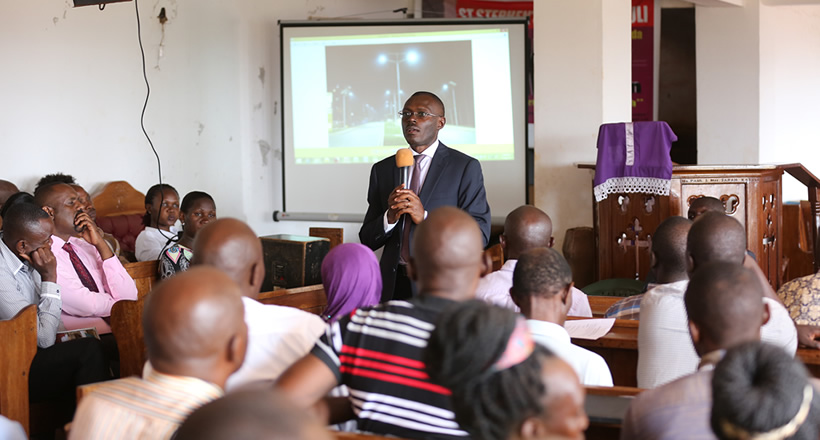 Do you live or run a business near a road which is not tarmacked? You will agree that regardless of weather (rain or shine), your business is either disrupted, or your property damaged. At the same time, your own, family and client's health is threatened by exposure to dust or stagnated water.

Cognizant of this, land and property owners around Kampala are providing space on their land for road construction. This decision was reached by community leaders, property owners and the KIIDP Project team.

Firstly, due to Government of Uganda resource limitations to fully finance compensation within a given timeframe. Secondly, because all designs for these roads are ready and construction funding from the World Bank is available for a limited period. Lastly, land and property owners are motivated to freely allow road construction through their land because the value of their properties will increase. As much as their health and wellbeing.

So far, four communities have consented for road construction to start, namely Acacia Avenue-Kololo, Kulambiro,Bunamwaya and Lukuli. In May 2017, out of 208 property owners along Kabuusu-Bunmwaya-Lweza Road 61 percent have voluntarily agreed to providing access for road construction. While, 63 percent out of 212 property owners along Kulambiro road have granted the project permission to construct the road, at no cost. The other owners are being reached, albeit some challenges such as absentee landlords, multiple ownership, and mortgaged properties.

Before construction starts, each property owner assents by signing a Consent Agreement. Discussions and further negotiations for severely impacted properties is also carried out. This is to mitigate acute loss of individual income and well-being. Residents with minimal impact on their properties such as moving of a perimeter wall, fences or driveways will have the affected development re-instated by the project.

It is evident that if urban property owners are well mobilized and sensitized, they can substantially contribute to development interventions. A resident of Kitebi along Bunamwaya-Lweza Road, wrote, "I commend you for your good responsiveness on this very sensitive matter…. I will oblige and sign the consent forms. Yours is certainly a true testament into restoring our confidence as the public in government operations."

With the support from local leaders and communities, all the proposed roads will be widened and tarmacked, with marked lanes, pedestrian walkways, street lighting and signage.