KAMPALA RECEIVES WATER TANKS FOR RAINWATER HARVESTING IN HEALTH FACILITIES
PUBLISHED — 12th, May 2023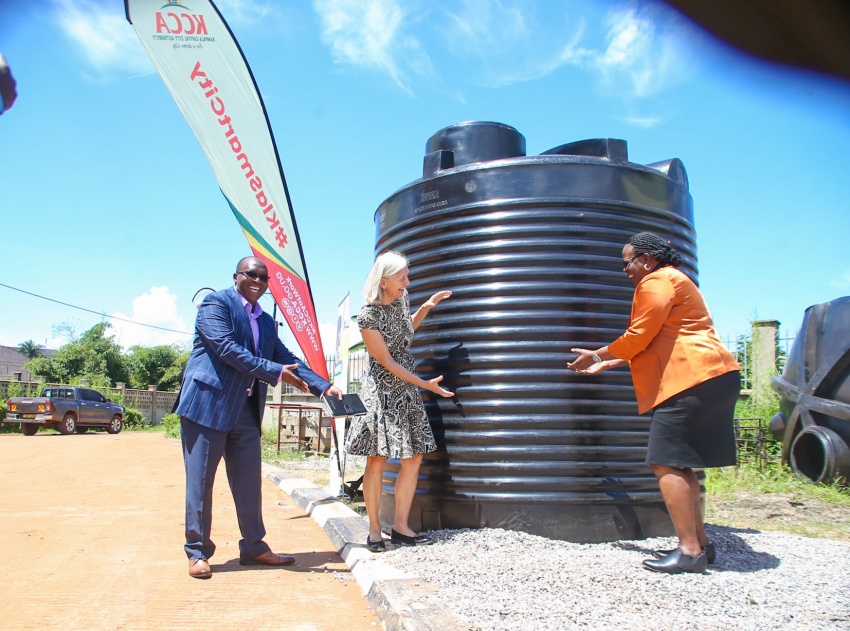 Kampala Capital City Authority (KCCA) has today received 20 water tanks, each with a capacity of 10,000 liters to aid in the implementation of a rainwater harvesting initiative in health facilities across the city.
The initiative is part of the Greater Kampala Integrated Flood Resilience (GKIFR) Partnership project, which aims to integrate nature-based solutions into urban infrastructure planning for enhanced flood resilience and sustainable socio-economic development.
Handing over the tanks to the KCCA Executive Director, Dorothy Kisaka, the Head of Programme for WatSSUP, Ottilie Mooshofer, described the initiative as a brilliant idea to collect water and use it, especially for a city like Kampala. She also highlighted the potential benefits of rainwater harvesting in slum areas by providing water for communal flash toilets.
Kisaka emphasized the importance of rainwater harvesting in Kampala City's flood resilience and stated that it should be implemented at all large public buildings, such as schools, shopping malls, and markets. She further revealed that rainwater harvesting is part of the KCCA Smart City agenda, and thanked the GKIFR Partnership project for supporting this initiative.
"I'm hoping that we can have all our 79 schools having rain harvesting facilties. Rainwater is soft and requires little soap and can be used for washing in boarding schools," Kisaka said.
She added that rainwater-harvesting tanks in health facilities would improve hygiene and reduce infections.
The GKIFR Partnership project launched last month identified seven pilot sites, including Lubiri Secondary School, Kitebi Primary School, Nakawa Market, Usafi Market, Nateete Market, and Kampala City Abattoir.
The GKIFR Partnership project is a collaboration between KCCA, the Ministry of Water and Environment, Uganda Manufacturers Association, Britannia Allied Industries Ltd, and ACTogether Uganda, implemented with support from the Natural Resources Stewardship Program (NatuReS).
NatuReS is a global GIZ program that aims to promote multi-stakeholder collective action for sustainable management of shared natural resources. The NatuReS Uganda program is funded by the European Union (EU), the German Federal Ministry for Economic Cooperation and Development (BMZ), and the UK Department for International Development.
The rainwater harvesting initiative in Kampala is a critical step towards sustainable urban development and flood resilience. It can provide a model for other cities to follow and promote collective action for the sustainable management of shared natural resources.​