KCCA ED VISITS KITEBI HEALTH CENTER
PUBLISHED — 14th, February 2023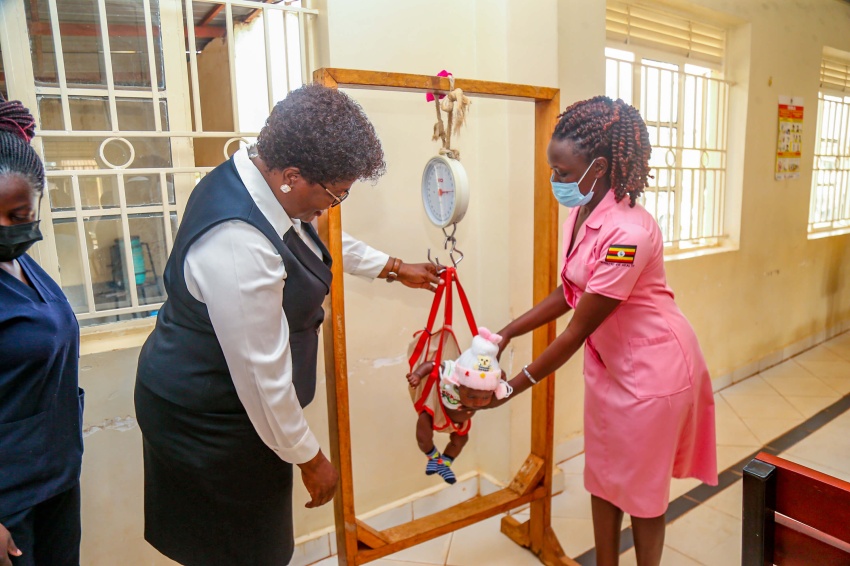 The Executive Director of Kampala Capital City Authority (KCCA) Dorothy Kisaka has applauded the staff of Kitebi Health Center III in Lubaga Division for the quality services they are offering to the city dwellers.
Kitebi which opened in 1954 is one of the eight health facilities operated by KCCA. Like all the other facilities, Kitebi also offers free health services to the city dwellers.
Kisaka spent her Tuesday morning hours at Kitebi interacting with the staff and having engagements with patients who had come to seek services.
On average, the facility receives 600 people on a daily basis making Kitebi one of the health facilities with a big daily client turn up in the country. In January a 404 patients were admitted and a total of 318 babies delivered.
The Kitebi Health Center In Charge Irene Kawooya Nakanyike, led the ED to a tour of the facility and introduced her to some of the services being offered including, the 3D Ultra-Sound Scan, laboratory services, dental services, antenatal care, family planning among others.
Kisaka's visit to the facility was aimed at getting close to the staff, to understand their challenges and opportunities in her effort to speed up service delivery.
"In the month of January a total of 318 deliveries were registered here and no deaths. That's awesome and I want to thank you for the great work," Kisaka said.
Kisaka while interacting with the patients kept asking them if the services offered are satisfactory and patients said they are happy with the services.
"We are now visiting our health centers, we want to improve the way we do things by using technology, improving infrastructure and ultimately ensure people wellbeing by making medicine available, improving staff welfare among others," Kisaka said.
She said in delivering services to the city, KCCA is focusing on the three pillars of the Smart City agenda, which include, Technology, Infrastructure and People wellbeing.
Kitebi has a total staff number of 120 staff where 50 are directly under KCCA and the 70 employed through partnerships with implementing partners.
Kisaka moved around greeting patients and the mothers and posing for pictures with them.
"The health workers are nice and we keep coming back because of the good services," said one of the patients.
The Director Public Health and Environment Dr Daniel Okello appealed to the health workers to stay professional and keep up the good services they are offering the clients.
"Thank you for the great job you are doing to look after the patients. This part of Kampala you are the only public health center serving Bunamwaya and Lubaga South," Okello said.
Nakanyinke thanked the ED for visiting the facilities to talk and listen to the staff and interact with patients.
"We fill energized and we believe all the gaps that have been reported to her will be addressed," Nakanyike said.
She requested that the facility be upgraded to a health center IV because of the high demand of services from the community.