PROF OMASWA RALLIES UGANDANS TO SUPPORT KISAKA ON KAMPALA CITY DEVELOPMENT AGENDA
PUBLISHED — 13th, January 2023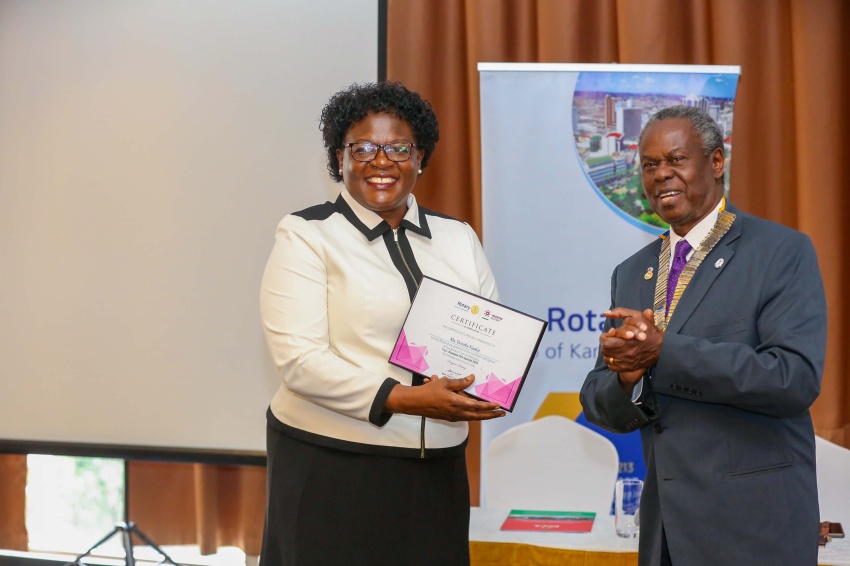 The President of Rotary Club of Kampala, Prof Francis Omaswa, has praised the Kampala Capital City Authority (KCCA), Executive Director, Dorothy Kisaka for her efforts towards the development of Kampala City.
"We are very lucky to have you at KCCA and it is our duty as Ugandans to give you all the support, for you to deliver the smart city that we all dream of, " Omaswa said.
Omaswa made the call on Thursday during the Rotary Club of Kampala meeting that was held at Sheraton Hotel, where Kisaka gave a keynote address to the members.
On behalf of the Rotary Club of Kampala, Omaswa pledged support to the Smart City Agenda to promote a thriving business environment as well as a healthy city.
"Our Rotary delegation will come to you to further discuss the development of the city. A smart city can happen, it can happen if Ugandans support our leaders," Omaswa said.
Kisaka who was in a jolly mood to address the rotary club members made a detailed presentation of the Kampala City Agenda 2023.
Shortly after her address Kisaka was presented with a certificate of recognition by Prof Omaswa.
In her remarks Kisaka said the city is prioritising the Smart City Agenda under three pillars: Technology, Infrastructure, and People wellbeing.
"Kampala city roads is something we are going to focus on this year. We received a substantial amount of money totaling to $288m which we are going to use to reconstruct 30 roads in the city" Kisaka said .
The road works are expected to begin in February and are funded by the African Development Bank (AfDB).
Kampala city has 2100 km of roads and only 650km (30 percent) of city roads are tarmack.
"We are patching roads but they are tired. In the next 36 months we shall be retiring 100km. These 100km are a promise in the NRM Manifesto in 2021" Kisaka said.
She also talked about the schools, health facilities, drainage and security lights in the city that need to be improved under the infrastructure pillar.
"We need to rise up as a people and support our primary schools. The infrastructure of our schools needs improvement," Kisaka said.
Her comments stemmed from her daily experience of many Ugandans especially old students who often support their former secondary schools and forget the primary schools.
Kisaka also described the Kampala city governance structure and shed light on the 1,480 political leaders in Kampala, ranging from Ministers, Mayors, RCCs, Councilors to Local council leaders.
Kisaka promised that, "We shall lead from the front and by example. We will fast track the development of the city, and we shall work towards minimizing disruptions to development by building bridges and working with those who oppose us because the city development agenda is bigger than all of us"
On noise pollution, Kisaka said this year will be a bad year for noise polluters.
"We are coming down on people polluting the city. We have already started arresting them and our enforcement team is on the ground," Kisaka said
She also talked about the streamlining of the Boda Boda Industry and provision of more working spaces for vendors in the city.