KCCA COMMISERATE WITH LORD MAYOR OVER FATHERS DEATH
PUBLISHED — 31st, August 2022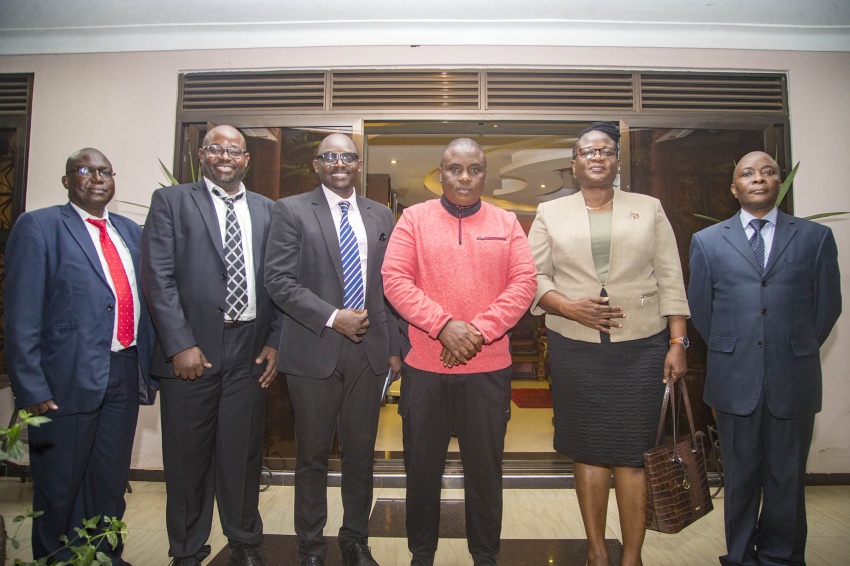 On Tuesday evening, the KCCA Executive Director Dorothy Kisaka paid a visit to the Kampala Lord Mayor Erias Lukwago and his family at Wakaligga to extend her sympathies following the death of Lukwago's father.
The father of the Lord Mayor, Haji Muhamood Mirundi 92, believed to have died of a blood clot on August 23, was buried on August 24, in Kalungu District.
Kisaka, was accompanied by five other members of the senior management team and delivered the commiserations of the Authority leadership
The Lord Mayor spoke fondly of his father as a 'hustler' who was very humorous and a prosperous farmer during his hey days.
Kisaka thanked God for Hajji Mirundi's life and for his contributions to humanity including the Lord Mayor Lukwago the sitting Mayor for Kampala City. She prayed for the grieving family to be strengthened by the Almighty God.
Before thanking the ED for her personal visit, Lukwago gave a glimpse into the personal life of his late father, who he described as a mentor, very loving and hardworking and who had become a dear friend.
"It never occurred to us that one day we will wake up and he is not around. We appreciate the way the institution supported us because you made the sendoff of our father befitting. We are going to miss him," Lukwago said.
"Thank you very much for this team visit which has warmed up my heart. It is not an easy thing for me and my family. But with God and prayers we shall heal," Lukwago added.
The two city leaders had some light moments when they talked about issues affecting the city, ranging from noise pollution, to street children, and the challenges of potholed sections of the city among others.
On the issue of street children the Lord Mayor recognised that this was a social evil and called for concerted efforts and a nationwide effort from fellow leaders in cabinet, parliament and in the communities to nurture the lives of the children.
Since joining KCCA in 2020, Kisaka has been committed to building bridges with all stakeholders with a goal of improving service delivery. Her mantra is "We can all win"