MAMELODI COACH HOSTED AT CITY HALL
PUBLISHED — 21st, June 2022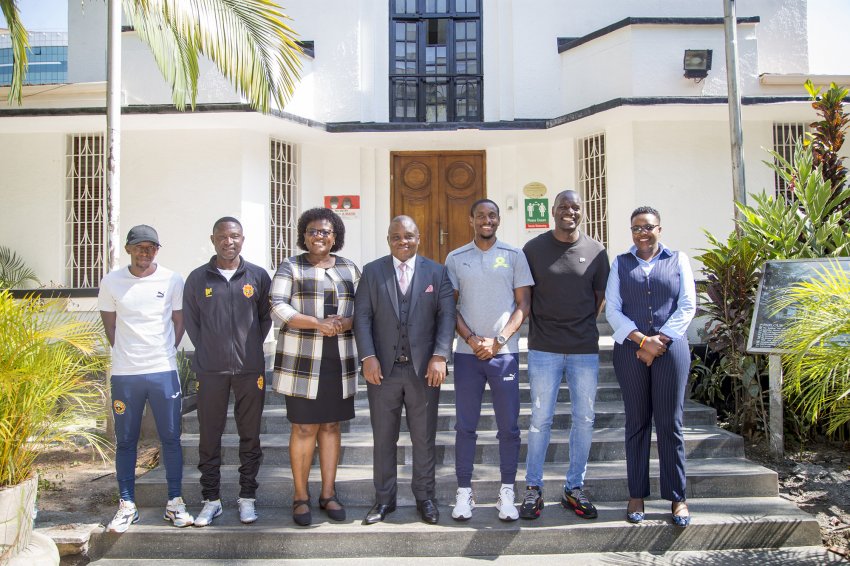 Mamelodi Sundowns Head Coach Rulani Mokwena has praised the Kampala Capital City Authority (KCCA) for its efforts to develop sports in Uganda. Mokwena is in Uganda on a five-day visit to share knowledge with the KCCA FC technical team in order to strengthen ties between the two teams. He was hosted by the Lord Mayor Erias Lukwago and the KCCA Executive Director Dorothy Kisaka at City Hall today (06/21/2022). Rulani was accompanied by Sinethemba Badela the Assistant Coach of Cape Town All Stars.
"I'm happy to be here. Thank you KCCA for hosting us in this fantastic city. Our visit is not a one-sided exchange because we have also learnt a lot from the club and would like to thank KCCA for supporting sports," Mokwena said.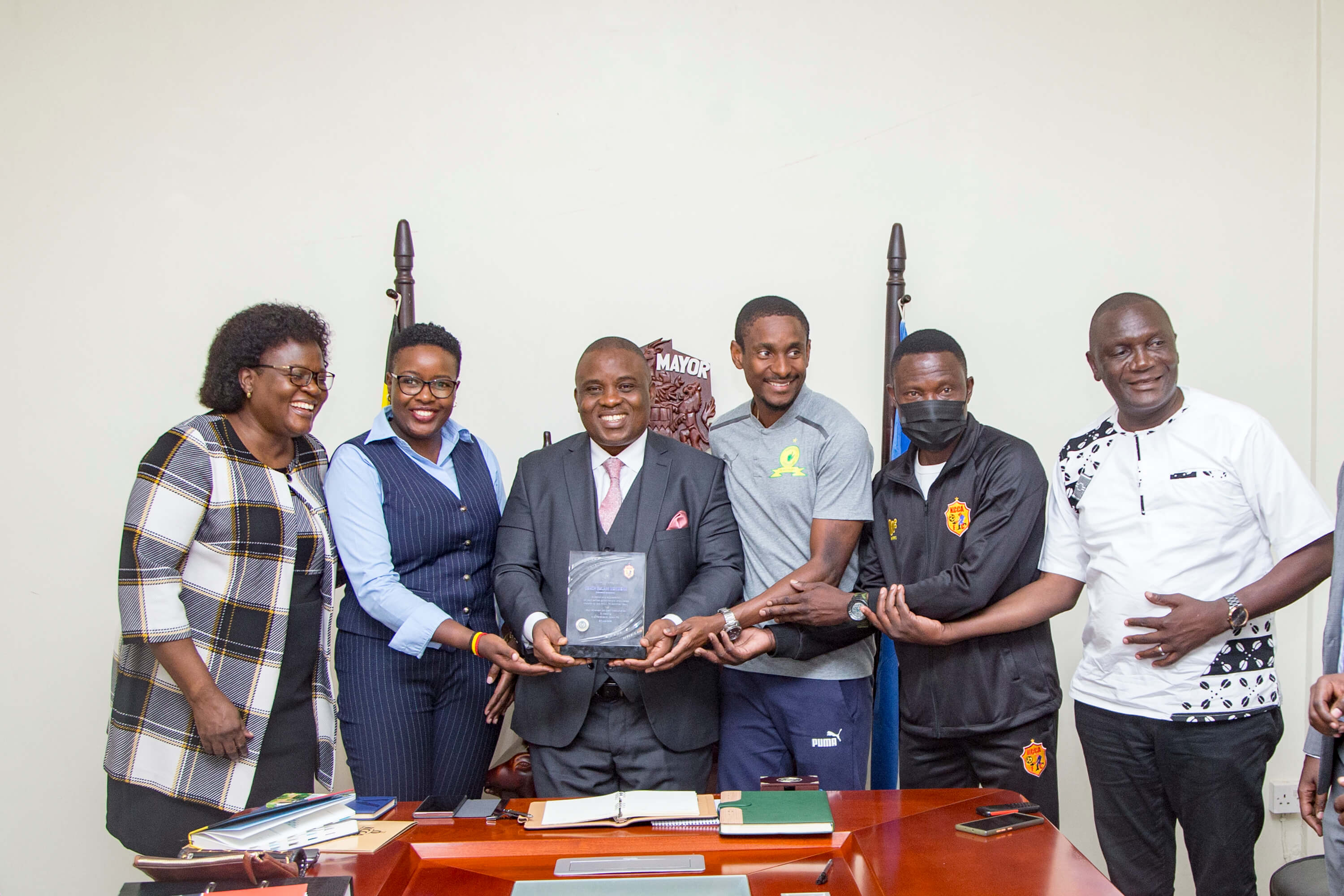 Rulani has been invited by the KCCA FC management which is in line with the Club's Five Years Strategic Plan under the Key Result area 5 which is Strategic Partnerships and Alliances. Former Uganda Cranes captain Denis Onyango, who now plays for Mamelodi Sundowns FC, was pivotal in Rulani's visit to KCCA FC.
In his remarks Lord Mayor Lukwago, commended the Rulani for accepting to come and support KCCA FC and asked him to offer opportunities to Uganda players.
"Ugandans boys have talent, give them chance we shall appreciate," Lukwago said.
He praised Uganda's former captain for flying the Uganda flag high in South Africa.
"Onyango, thank you for raising our flag you inspire so many young people and we are proud of you," Lukwago said.
According to Kisaka sports is an integral part of Kampala City and having great sportsmen like Rulani visit the city is a privilege.
"Sports is big thing for the young people, it is a fertile ground of opportunities for the youth who make 70% of our population," Kisaka said.
KCCA is blessed with 79 schools across the city and number of sports grounds where young people can develop their sports talents.
She also praised Onyango for making Kampala shine and asked him to continue being a good ambassador of Kampala Smart City.
Onyango said he is committed to helping young stars and the youth to learn.
"As a boy who grew in Kampala, I feel is should give back to the city that raised me. I believe football can change life," Onyango said.
He said he believes his journey from the slums of Nsambya to now a professional footballer in South Africa is an inspiration to others.
"I want to help the youth believe that it is possible," Onyango said.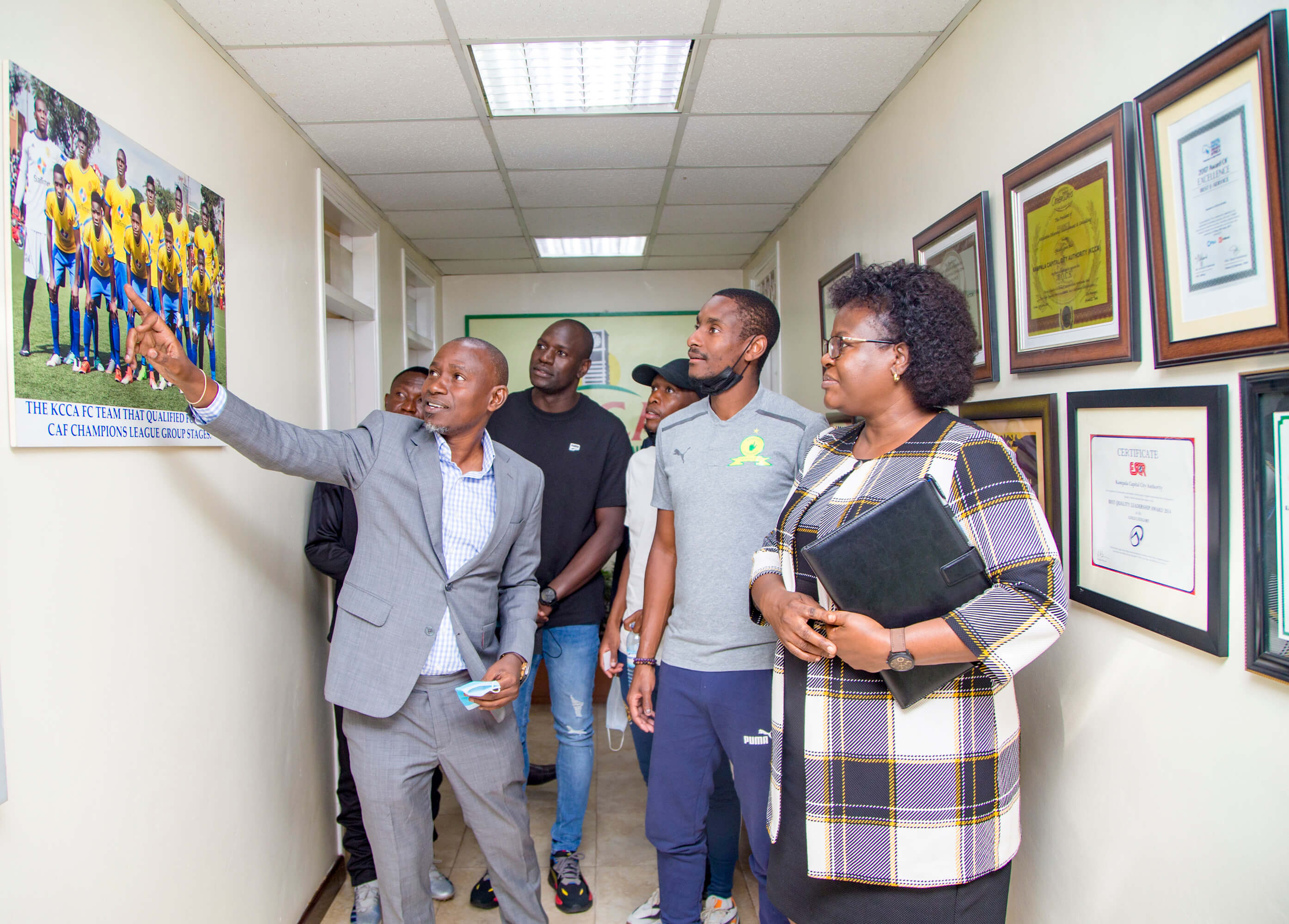 The KCCA FC Vice Chairman Aggrey Ashaba said the club is engaging with Memolodi to learn from them and improve.
He said there is a lot to learn from South African clubs where players like Onyango have spent about 16 years as a professional.
"Average performance of the highest level in Uganda is 3-5 years, we want to see how our players can perform better in Uganda," Ashaba said.
At the end of the meeting the Lord Mayor and the visitors exchanged gifts and had photo opportunities.
KCCA FC club officials including club CEO Anisha Muhozi and Club Manager Morley Byekwaso attended the event.