KCCA LAUNCHES SOLAR BAKING VOCATION AT KABALAGALA ONE STOP YOUTH CENTER
PUBLISHED — 18th, February 2022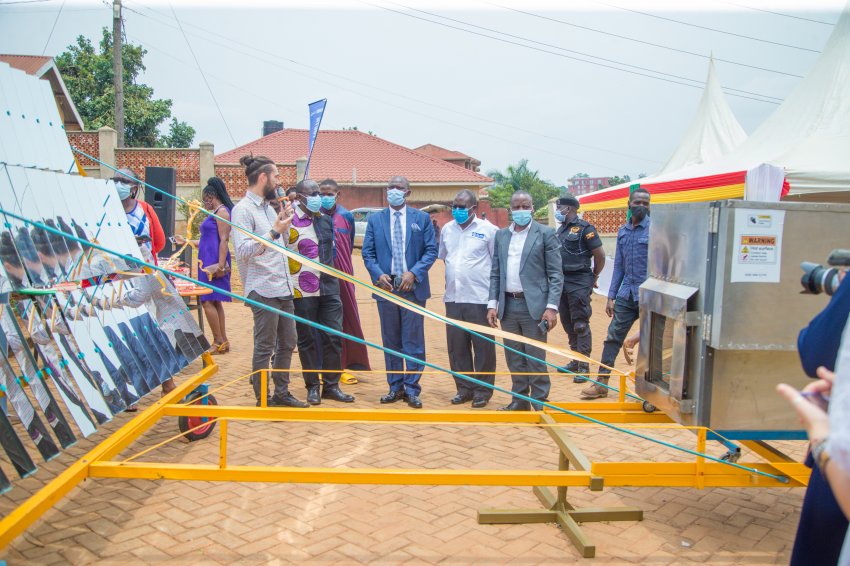 LAUNCH OF SOLAR BAKING VOCATION AND GRADUATION OF SMARTUP BENEFICARIES AT KABALAGALA ONE STOP YOUTH CENTER – FRIDAY 18, FEBRUARY 2022
We welcome you all to KCCA's Kabalagala One Stop Youth Centre.
Youth unemployment is one of the major challenges that most cities or countries in Africa grapple with and as KCCA, we are no exception. We have an abundance of young labour force which has not been ably absorbed into the labour Market due to different reasons. The density of institutions of higher learning sending out graduates every year in Kampala and its environs has ensured that there is a cyclic and vicious phenomenon of job seekers including professionals and the unskilled.
In view of the above, with financial support from UN-HABITAT, KCCA through the Directorate of Gender Community Services and Production opened up the Kabalagala One Stop Youth Centre to provide an opportunity to engage young people to think creatively about employment alternatives such as vocational and digital skills that will generate income while building capacity for sustainable business development and placement into blue-collar jobs.
The Centre became operational in December 2017. To date, we have equipped 900 (270 Males, 630 females) youth with vocational skills in Shoe Making, Hair Dressing, Beauty Therapy, Garbage Recycling and Electrical Installation, and bag making. As a result of these trainings, we have realized a 54% employment rate of the beneficiaries. We are proud of the young people who have successfully utilized the knowledge acquired to create or join employment to better their livelihood.
SMART UP FACTORY
In partnership with Plan International since 2018, KCCA has successfully equipped youth with practical knowledge in digital technologies such as software development, website design, videography & photography and Art education. The employment rate after these trainings is at around 40% beneficiaries from the program. The purpose of the program is to help youth address community challenges using digital platforms while creating employment for themselves and their peers.
SOLAR BAKING VOCATION
Furthermore, as part of the partnership with Plan International and with financial support from Lyte Fire Company Finland, the center recently received Solar Baking Equipment as an expansion to the vocational trainings offered. The first Cohort of 17 (Male 7, Female 10) students have completed the Bakery training and have graduated with certificates and we officially launched the Solar Baking Vocation today 18 February 2022.
Listening to the testimonies of the young people trained at the Centre is very encouraging, some have already utilised the skills and started up businesses, while the others have found employment. This gives us hope that with such initiatives, we will gradually overcome the youth unemployment challenge.
To the youth that graduated at the launch of the Vocation, we congratulate you upon this achievement. Thank you for committing to make your lives better and we hope that you will put the acquired skills to good use for your own benefit and the communities in which you live. We urge you to be good ambassadors of KCCA.
We appreciate our esteemed partners, notably Plan International and Lyte Fire for their continued support towards youth empowerment in Kampala. Plan International set up two fully equipped digital and Innovation Hubs at the KCCA Employment Services Bureau and at Kabalagala One Stop Youth Centre. We thank you all for collaborating with KCCA and we call on many more partners to join in the effort to reduce youth unemployment in Kampala.
We would also like to appreciate the Political wing who have helped KCCA in the mobilization of beneficiaries for the different programs. This has enabled us to reach the vulnerable communities that need these services.
Thank you all and we appeal to you to continue supporting KCCA's work to transform the City.
For a Smart City