EXECUTIVE DIRECTOR'S TALKING POINTS AT THE US AMBASSADOR'S VISIT TO KCCA TO LAUNCH THE NEW PEPFAR AWARD FOR STRENGTHENING URBAN HEALTH CARE SERVICES
PUBLISHED — 30th, September 2021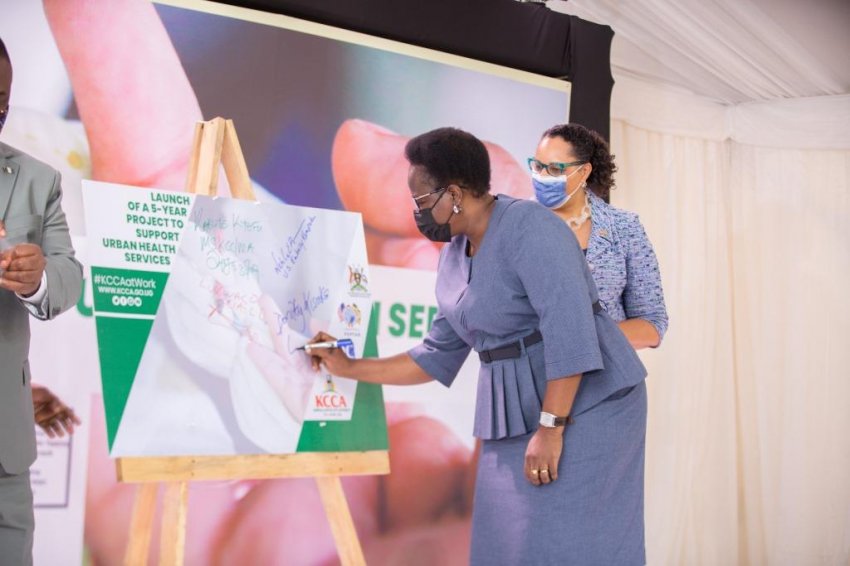 Date: Thursday 30th September 2021
Time: 11:00AM- 12:00PM
Venue: City Hall Upper Gardens behind Block B
Duration of speech: 5 minutes
Protocol to be observed:
U.S. Government
Natalie E. Brown, U.S. Ambassador to Uganda
Lisa Nelson, CDC Country Director
Richard Nelson, USAID Mission Director
Donna Kabatesi, Associate Director Programs
Heather Smith-Taylor, USAID Health and HIV Office Director
Government of Uganda
Minister of Health, Hon. Dr. Jane Ruth Aceng
Minister for Kampala Capital City and Metropolitan Affairs, Hon. Minsa Kabanda
Kampala Lord Mayor, His Worship Erias Lukwago
Implementing partners
Executive Director IDI, Dr. Andrew Kambugu
Chief of Party, USAID Maternal and Child Health Activity, Dr. Nathan Tumwesigye
Chief of Party, USAID Social and Behavior Change Activity Johns Hopkins Center for Communication Programs, Glory Mkandawire,
Your Excellency,
The National Development Plan(NDP) III highlights that improving the quality of life of all Ugandans is a central goal which is partly achieved through Improvement of the Public Health and Environmental Management. KCCA is tasked with ensuring Kampala has healthy and productive citizens. It is important to note that the fostering of health equity and health equality; creation of frameworks for urban health and partnerships are critical to the attainment of the improved quality of life for the Kampala populace.
Kampala City has a large urban poor population of about 57% and a large transient population with 4.5 million accessing the City during the day that affects planning with an annual demographic growth rate of 3.9 percent according to the KCCA statistical abstract for the year 2019. Migration/ Fluidity of the population makes Disease Surveillance & community-based service delivery more complex.
The Uniqueness of Health Service Delivery in Kampala City as documented in the draft Kampala Urban Health strategy(2021 to 2025) is characterized by: Unregulated & dominant private sector that constitutes 99% of the 1,497 health facilities within the City; Poor urban-specific referral pathways in addition to dominance of self-referral tendencies ; Execution of the non-urban driven health policies and guidelines as the blue print in these key documents does not necessarily apply to an urban setting; Congestion in the absolutely free 25 public health care facilities by urban poor coupled with unnecessary burdening of public facilities.
Kampala has an HIV prevalence of 6.9% among adults aged 15 to 64 years which is higher than the national prevalence of 6.2% according to the 2016 Uganda Population HIV Impact Assessment. Furthermore, the estimated TB prevalence is 501 TB cases per 100,000 persons which is higher than most urban settings in Uganda according 2014 Uganda TB Prevalence survey.
Therefore, having CDC today support KCCA under the Government to Government (G2G) Agreement to build the capacity for co-ordination, partnerships, governance, human resource capacity for HIV and TB service delivery, integration of HIV and TB services with other disease programs, and integration of health information systems, integration for surveillance, M&E and laboratory systems strengthening.
KCCA values partners like the US- Centers for Disease Control and prevention (CDC) who are providing a 5-year award of USD 1.631 Million grant annually to KCCA to support Urban HIV/ TB Services. This project builds on earlier efforts by CDC through Infectious Diseases Institute (IDI) to strengthen the Urban Heath Services in Kampala.