MINISTERS BRIEF ON REVAMPING OF THE CITY INFRASTRUCTURE
PUBLISHED — 28th, April 2021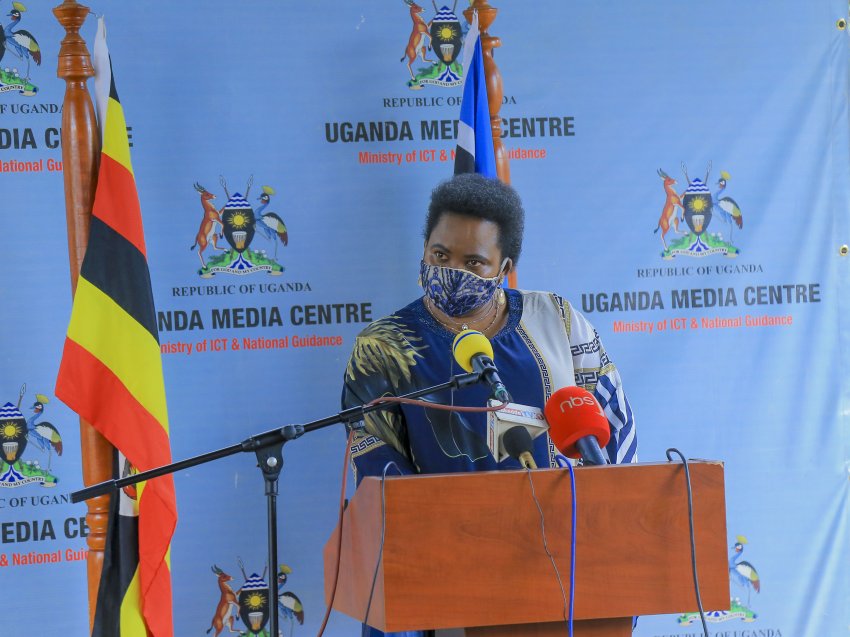 MINISTRY OF KAMPALA CAPITAL CITY AND METROPOLITAN AFFAIRS
PRESS STATEMENT BY THE MINISTER FOR KAMPALA CAPITAL CITY AND METROPOLITAN AFFAIRS ON GOVERNMENT PLANS TO REVAMP INFRASTRUCTURE IN KAMPALA CITY - APRIL 28th, 2021
Over the last years, Government of Uganda has undertaken huge infrastructural developments in the Country and for Kampala Capital City Authority (KCCA), government has implemented a number of programs/projects in the City including the KIIDP1 which constructed 11.81Km of road and 3.6km of drainage, KIIDP 2 that involves the construction of 32.7km of road, 12 completed & 16 ongoing signalized junctions to be completed June 2021. KIIDP 2 also supported property valuation in the five Divisions as well as the headquarters.
Currently, Kampala has a road network of 2,100Km of which 642Km is paved with a drainage system of 145 Km of major drains and 3,428Km of minor drains; of these only 714Km (20%) are constructed open drains. Government is aware of the state of deteriorated road network in the city arising from an old network which has outlived its design life exhibiting potholes and edge distress.
Government through KCCA has come up with a plan that would go beyond just repairing, to improving our city streets through a number of projects aimed at revamping the existing network and increasing the number of Kilo Meters of tarmacked roads in the City such as, that funded by the African Development Bank in which 69 Km of road are to be constructed with walkways, cycling lanes, drainage and street lighting. Additional funding is being sourced from The French Development Agency fund for street lighting in which we intend to deploy 20,000 street lights across the City.
To address the current outcry due to potholes challenges in the City, Government has availed funds to undertake remedial and interim measures to make roads motorable as we await the major interventions. 9Billion Shillings has been availed this fourth quarter (April- June 2021) to undertake emergency road repairs at key points and sections of roads over the next two weeks. I am certain you are already witnessing these road works across all the five Divisions of Kampala; Nakawa, Central, Kawempe, Lubaga and Makindye. A detailed list of areas to be worked upon is attached for your information.
We want to notify the country that H.E the President has already directed us to prepare a comprehensive plan for revamping the City infrastructure through a long term financing Model and a cabinet memo is being prepared for presentation and adoption by cabinet.
The plan will address the overall infrastructure master plan which will also handle roads rehabilitation, traffic congestion, drainage and flooding problems in the City etc since road failures in Kampala are worsened by a strained and dilapidated drainage system, increased traffic load and extreme weather conditions such as heavy rains that have eroded the road surfaces.
Further, the drainage challenges in the City shall be addressed through facilitating the implementation of the Kampala Drainage Master Plan. In the meantime, His Excellence the President, Gen. Yoweri Kaguta Museveni, in August 2020 launched the construction of the Lubigi and Nakamiro Channels with a combined stretch of 5.88Km at a total cost of UGX 82.7 Billion. The two channels shall solve the flood concerns in the low lying areas of Bwaise in Kawempe Division stretching into Kawala in Lubaga Division. Works shall be completed by November 2021.
Other interventions being undertaken to address infrastructure challenges include current works at the Clock Tower area along Entebbe Road – the gateway to Kampala- that is going to be addressed by the completion of the Kampala Flyover Project. In addition, funds have been availed in the budget to address the major flood spots in Kampala starting in July 2021 with Shoprite Lugogo, Kyambogo areas, Nateete, Bunga-Gaba Road, Cape Munyonyo and others. A list of interventions in the City to address drainage challenges is also available for your information.
As we endeavor to revamp our city infrastructure, we are disappointed by improper solid waste (garbage) management through irresponsible dumping of garbage (polythene, plastic bottles, agricultural and trade refuse) that ends up blocking the existing drainage system. Members of the public are cautioned against irresponsible garbage disposal in any form. Responsible garbage disposal is a civic duty for all that visit and live in Kampala. We shall start enforcement by apprehending those that litter the Capital City.
Encroaching on drainage reserves for primary and secondary channels with illegal developments should stop immediately. Some developers construct over the drains while others illegally divert the course of drainage channels. Consequently, the capacity of drains has decreased and maintenance affected.
I reaffirm government's commitment to deliver a beautiful and sustainable Capital City as well as rally all that derive opportunities in Kampala to walk hand in hand with KCCA on this journey for a better City.
Lastly I congratulate all the people of Kampala and Uganda in general for the post-election calm. As we prepare for the swearing in of new political leaders, let us promote peace and continue observing the SOPs to combat the spread of COVID 19 and adhere to the Government set curfew hours.
FOR GOD AND MY COUNTRY.
Betty Amongi Ongom (MP)
DRAINAGE PROJECTS FOR FY2021-22
| | | |
| --- | --- | --- |
| | Channel/ crossing | Channel/crossing length (m) |
| Rubaga | Nateete , Elian junior school (Box Culverts) | 14.5 |
| | Nateete , Police (Box culvert Crossing) | 16 |
| | Njuki Channel , in Nakulabye with deep gorges, earth works | 180 |
| | Kayanja Channel | 830 |
| | Kigaga , Nateete Channel | 1500 |
| | Completion of Lot 4 (Nabulagala) | 1500 |
| | | |
| Central | Jugular Channel (Box culvert Crossing) | 12.5 |
| | Nana channel , Sir Apollo Kagwa | 800 |
| | Subtotal (central) | |
| Makindye | Soya bunga (Box culvert Crossing) | 28 |
| | Cape road (Box culvert Crossing) | 32 |
| | Namuwogo , wabigalo channel | 850 |
| | St . Dennis , Kibati Lukuli road | 680 |
| | Dinka , Lubega channel | 646 |
| | | |
| Nakawa | Lukman , Oygas (Box culvert Crossing) | 22.5 |
| | shoprite Lugogo, Game , Jinja road (Box culvert Crossings and Drainage) | 68 |
| | Mutongo hill road | 386 |
| | Completion of Lot 5 (Bugolobi Channel) | 1580 |
| | Subtotal Nakawa | |
| Kawempe | Katanga Bridge (Box culvert Crossing) | 18.5 |
| | Nammere channel, Kitezi , Mperwere | 250 |
| | | |
IN HOUSE POTHOLE PATCHING APRIL TO MAY 2021
AREAS READY TO RECEIVE ASPHALT IN DIVISIONSA FOR 3WEEKS (m2)

Road name

Quarterly total (m2)

Comments

LUBAGA

1

Masaka road

299.5

Ready to receive Asphalt

2

Bulange Way

58.5

Ready to receive Asphalt

3

Lubaga road

313.11

Ready to receive Asphalt

4

Zaake road

47.3

Ready to receive Asphalt

5

Ham Mukasa road

105.76

Ready to receive Asphalt

6

Balituma road

113.5

Ready to receive Asphalt

7

Wakaliga road

182.9

Ready to receive Asphalt

8

Hoima road

8.2

Ready to receive Asphalt

9

Lubaga

95.6

Ready to receive Asphalt

10

Balintuma

313

Ready to receive Asphalt

Total

1537.37

Ready to receive Asphalt

NAKAWA

1

Katalima road

120.5

Ready to receive Asphalt

2

New port bell

90.6

Ready to receive Asphalt

3

Nagulu drive

190

Ready to receive Asphalt

4

Kigobe road

125

Ready to receive Asphalt

5

Nagulu road

154

Ready to receive Asphalt

6

Kinawataka road

200

Ready to receive Asphalt

7

Kigobe road

300

Ready to receive Asphalt

MAKINDYE

1

Katwe road

200

Ready to receive Asphalt

2

Nsambya Estate road

240

Ready to receive Asphalt

3

Katwe road

295

Ready to receive Asphalt

4

Ufafi

167

Ready to receive Asphalt

5

Tank hill

80

Ready to receive Asphalt

6

Nsambya Estate

269

Ready to receive Asphalt

7

Namasore road

189

Ready to receive Asphalt

8

Ggaba road

145

Ready to receive Asphalt

9

Ochola close

130

Ready to receive Asphalt

KAWEMPE

1

Division road

100

Ready to receive Asphalt

2

Nabweru road

70

Ready to receive Asphalt

3

Kyebando ring road

150

Ready to receive Asphalt

4

Sir Apollo road II

239

Ready to receive Asphalt

5

Dwaliro road

124

Ready to receive Asphalt

6

Nkinzi road

89

Ready to receive Asphalt

7

Bombo road

120

Ready to receive Asphalt

8

Alice kagwa

Ready to receive Asphalt

CENTRAL

1

Martin road

87

Ready to receive Asphalt

2

Old kampala ring

127

Ready to receive Asphalt

3

Gadaffi

38.5

Ready to receive Asphalt

4

Boundary close

69

Ready to receive Asphalt

5

Kasozi road

90

Ready to receive Asphalt

6

Kampala

30

Ready to receive Asphalt

7

Bombo Road (From Kampala

Road to Wandegeya)

70

Ready to receive Asphalt

8

Sir Apollo Road ( Bakery Road

To Makerer Hill Road )

300

Ready to receive Asphalt

9

Sepiria road

50

Ready to receive Asphalt