STATEMENT ON SANITATION AND SOLID WASTE MANAGEMENT IN KAMPALA
PUBLISHED — 11th, December 2020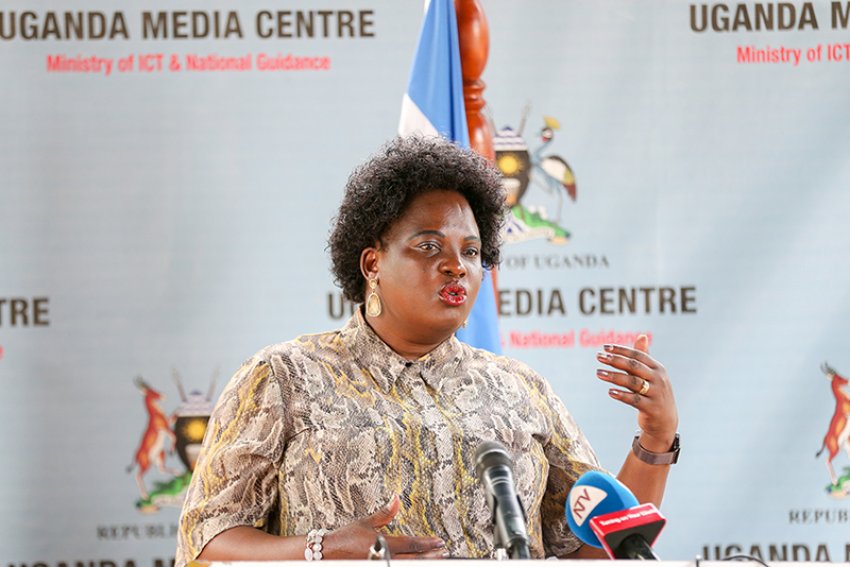 MINISTRY OF KAMPALA CAPITAL CITY AND METROPOLITAN AFFAIRS
PRESS STATEMENT BY THE MINISTER FOR KAMPALA CAPITAL CITY AND METROPOLITAN AFFAIRS ON SANITATION AND SOLID WASTE MANAGEMENT IN KAMPALA
December 11th, 2020
During His Excellency the President and Ministers' for Kampala engagements in the Capital City, a number of issues were raised by the communities on how services are delivered in Kampala. Key among these concerns were issues of Solid waste management (garbage collection), sanitation, vector control and access to clean & affordable water.
His Excellency thereafter directed the Minister for Kampala and Metropolitan Affairs to ensure that the raised issues are dealt with and today we are here to address them as below;
On matters of sanitation;
1. Public toilets.
KCCA, working with National Water & Sewerage Cooperation (NWSC) together with partners like Water for People, GIZ, Samaritan's Purse and Amref Health, have commenced a program to construct two public toilets per parish. The construction of Seven (7) model public toilets is set to begin this December 2020 in select parishes across the five Divisions of Kampala.
Government, through KCCA and NWSC, is in the final stages of procurement for service providers to construct fifty (50) state of the art toilets across the city. These toilets will be constructed in public or communal spaces such as; taxi parks, markets (Nakawa-2, Kasubi-2 (finished), Bukoto, Namuwongo 1&2 …) and other areas of high convergence of people like Constitutional Square (2), Non-Motorized Transport Route (2). The public shall pay not more than UGX 200 per person as per the directive of His Excellency the President.
2. Empting of pit latrine support in informal settlements (slums).
Government through KCCA will on 14th December 2020, next week, launch the third phase of the relief emptying in informal settlements where emptying for at least 1,000 households in the mentioned areas mentioned in table 1 below and 200 community latrines. The market rate of emptying a pit latrine is Ugx 100,000 for one cesspool trip (4,000ltrs) or Ugx 25,000 for one barrel (120 ltrs) but the emptying shall be subsidized at 25% of the market rate (Ugx 75,000 and Ugx 18,000 for a 4000ltr trip and 120ltr barrel respectively).
Table 1:
DIVISION PARISHES FOR SUBSIDIZED EMPTYING OF LATRINES

NO.

KAWEMPE

NAKAWA

LUBAGA

MAKINDYE

CENTRAL

1

BWAISE I

BUKOTO I

MUTUNDWE

LUKULI

KISENYI

2

BWAISE II

LUZIRA

KABOWA

KATWE I

KISENYI II

3

BWAISEIII

BUTABIKA

NAKULABYE

KATWE II

KISENY III

4

KANYANYA

KASUBI

KIBUYEI

MENGO

5

KYEBANDO

NDEEBA

KIBUYE II

KAMWOKYA

6

MULAGO I

NAJANANKUMBI I

NSAMBYA RAILWAY

KAGUGUBE

7

MULAGO II

NAJANANKUMBI II

KABALAGALA

BUKESA

8

MULAGO III

BUSEGA

SALAAMA

9

MAKERERE III

NATEETE

KANSANGA

10

KIKAAYA

GABBA
Residents in the above communities with filled latrines and are unable to pay for emptying services should visit the office of the LC1 for guidance on how to access this service. We are meeting all LC chairpersons from these communities today at City Hall to be briefed on how to guide their residents
3. Collection of Solid Waste from Informal Settlements
His Excellency the President directed KCCA to collect garbage from informal settlements at no cost. KCCA and its solid waste management contractors, that is; Nabugabo Updeal Joint Venture (NUJV), HomeKlin Uganda Limited and Kampala Solid Waste Management Consortium (KSWMC), have committed to fulfil this directive by a signed memorandum as follows;
a. Free Garbage collection shall be done from households located in the 35 informal/low income zones (slums) listed in the table attached to this statement. This shall not apply to businesses found in these informal/low income settlements.
b. The garbage collections will be done every Wednesday of the week using the "bring to truck" mode of collection. For each time of collection, a household shall be allowed 100 liters (volume of gunny bag used to park 50kg of sugar)
c. Garbage collection from households in the selected zones whose waste will be collected on other days of the week (other than Wednesday) and of higher volume than the one stated above, will be done at negotiables fees in the range of UGX 3000 – UGX 30,000 per month depending on the volume of waste and frequency of collection.
d. Households located in informal settlements which are not named in the above mentioned table, will pay monthly fees of UGX 3,000 per month for a one-time collection per week of a volume up to 100 liters (a 50kg gunny bag used to pack sugar).
e. KCCA will continue collecting Garbage from 277 selected zones/informal settlements/markets across all the five divisions at no cost and at differing frequencies as per table 3 attached.
4. Concerns of Property Rates charged on owner occupied properties
Property rates are regulated by the Local Governments (Rating) Act, 2005 and the Local Governments (Rating) Regulations, 2006. KCCA adopted property rates under Section 78(2)b of the Kampala Capital City Act, 2010 and under Section 50 of the same Act as a source of revenue for the City.
Property rates payable are arrived at through a property valuation process based on the market value of a property if it were rented. The valuation process then establishes the ratable value.
In Kampala, Property rates are assessed at 6% of the ratable value of a property whose ratable value exceeds 5 million shillings and at 4% for properties that do not exceed Ugx 5 Million.
Residential owner occupied properties DO NOT pay property rates. Only Residential rented and commercial properties pay property rates. Individuals that Reside in their properties should ensure to notify KCCA at the different division offices every financial year not to be charged and equally notify KCCA when they let the property so they can be charged.
5. Covid 19.
We are all aware of the surge in COVID 19 cases in the Capital City and the Country as a whole. We are in very worrying times yet we are still capable of containing this pandemic. Many people have put down their guard and the consequences clear to all of us with hospitals running out of bed space.
I appeal to all the people of Kampala and Uganda in general to continue observing the SOPs and adhere to the Government set curfew hours.
FOR GOD AND MY COUNTRY.
…………………………………………………….
Hon. Betty Amongi Ongom (MP)
Table 2,
LIST OF ZONES WHERE GARBAGE IS TO BE COLLECTED FOR FREE FROM HOUSEHOLDS IN KAMPALA
Kabaale Zone

Lubaga Divsion

2.

Kibumbiro B

Lubaga Divsion

3.

Kawaala Central

Lubaga Division

4.

Kasubi Zone 3

Lubaga Division

5.

Kiyaaye zone 4

Lubaga Division

6.

Terace zone

Lubaga Division

7.

Lubaga Division

8.

Kivumbi zone

Lubaga Division

9.

Lubaga Division

10.

Factory Zone

Lubaga Division

11.

Lubaga Division

12.

Namusoke Zone

Lubaga Division

13.

Kabaawo Zone

Lubaga Division

14.

Kironde zone

Lubaga Division

15.

Kayanja Zone

Lubaga Division

16.

Green Valey

Kamwokya I

Central Division

17.

Kiti zone

Kisenyi III

Central Division

HomeKlin (U) Ltd

20.

Kakajjo zone

Kisenyi II

Central Division

21.

Central Division

22.

Church area

Kamwokya I

Central Division

23.

Kisenyi 1

Kamwokya I

Central Division

24.

Kamwokya I

Central Division

25.

Kibuye I

Makindye

HomeKlin (U) Ltd

26.

Katwe I

Makindye

27.

Katwe II

Makindye

28.

Makindye

29.

Makindye

30.

Makindye

31.

Bwaise II

Kawempe

32.

Lutunda Zone

Kawempe

33.

Bwaise III

Kawempe

34.

Bukoto II

Nakawa

35.

Nagulu go down

Naguru II

Nakawa

36.

Nakawa

37.

Bukoto I

Nakawa
Table 3:
List of zones where garbage is collected for free from households in Kampala by KCCA
1.

Industrial Area

Kagugube

Central Division

Periodic waste collection (Twice a week)

2.

Kagugube

3.

NHCC

4.

Kivulu I

5.

Kivulu II

6.

Sapoba

Kisenyi III

Central Division

Daily waste collection

7.

Luzige

8.

Kiguli

9.

Kiti

Daily waste collection

10.

Kawempe

11.

Church Area

12.

Kakajjo

Kisenyi II

Central Division

Only Periodic Clean-ups done once a month

13.

Lubiri Triangle

14.

Market view

15.

School view

16.

Mbiro

17.

Church area

18.

Kasaato

19.

Kibwa

20.

Kiganda

21.

Mengo Hill

22.

Rubaga rd. A

Mengo Kisenyi

Central Division

Only Periodic Clean-ups done once a month

23.

Rubaga rd. B

24.

Ssebalijja

25.

Social Centre

26.

Sserwanga

27.

Yowana Maria

28.

Hoima road

29.

Musajjalumbwa Flats

30.

Blue room

Kisenyi I

Central Division

Only periodic clean-ups

31.

Buwanika

32.

Muzaana

33.

Central Village
34

Kanyogoga, Namuwongo A & B

Bukasa

Makindye

Once a week

35

Yooka,

36

Katongole,

37

Soweto

38

Base

Katwe II

Makindye

Once a week

39

Taawo

40

West

41

Central

42

Kiganda

43

Byuma

44

Mugwanya

Nsambya Central

Makindye

Once a week

45

Katabira

46

Ave maria

47

Mubiru

48

Kamwanyi

49

Nsambya west

50

Nawanku

Katwe I

Makindye

Once a week

51

Kasule

52

White Nile

53

Lufula

54

Buligwanga

55

Nabisaalu

Kibuye I

Makindye

Once a week

56

Nkeere

57

St Bendicto

58

Wanyana

59

Kanakulya

60

Kapeeke

61

Nsuwa

62

Kisaasizi

Kabalagala

Makindye

Once a week

63

Mayor

64

Biyinja

65

Kyeyune

66

Pantaleo

67

Mosque

Kibuli A

Makindye

Once a week

68

Lubuga

69

Kisaasa

70

Lubowa

71

Kakungulu

72

Agip

Kibuli B

Makindye

Once a week

73

Kitooro

74

Kanakulya

75

Green hill

76

Kitooro

Wabigalo

Makindye

Once a week

77

Wabigaalo lower

78

Muvule

79

Muwafu

80

Railway

81

Kalina

82

Kasanvu

Kisugu

Makindye

Daily

83

Go down

84

Nzerebera

85

Mugalasi

86

Kiteso

Ggaba

Makindye

Once a week

87

Kamwanyi

88

Katoogo

89

Sendawula

90

Ggaba mission

91

Sankara

Lukuli

Makindye

Once a week

92

Kosovo

Salaama

Makindye

Once in a fortnight

93

Valley zone

94

Nabutiti

Kansanga

Makindye

Once a week

95

Wheeling

96

Ssimbwa

97

Sebuliba

98

Sebagala

99

Lusaka

Makindye I

Makindye

Once a week

100

Katale

101

Kirombe

102

Israel

103

Mawanga

Buziga

Makindye

Once a fortnight

104

Nakayiza zone

Kabowa

Lubaga

Periodic waste collection

Once a week

105

Nsiike Zone

Ndeeba

Lubaga

106

Kibumbiro zone

Busega

Lubaga

107

Lugaaju

Kasubi

lubaga

108

Kawaala

Kasubi

Lubaga

109

Kiwuunya

Nakulabye

Lubaga

110

Wakaliga

Lubaga

Lubaga

111

Kosovo Ssendawula

Lungujja

Lubaga
112

Kigundu

Makerere III

Kawempe Division

Periodic waste collection

Once a week

113

Good Hope

114

Mayinja

115

Dobbi

116

Kibe

117

Sebina

118

Zone A

Makerere II

Makerere II

Makerere II

Makerere II

119

Zone B

120

Zone C

121

Zone D

122

Kirokole

Kawempe I

123

Kalule

124

Kiswora

125

Kakungulu

126

Kizza

Kawempe I

127

Mbogo

128

Ket Falawo

129

Kiyindi

Bwaise I

130

Sempa

131

Kulumba

132

Industrial Area

133

Bishop Mukwaya

134

Kisenyi

135

Kiyaga

136

Lule

137

Katoogo

Bwaise III

138

Bokasa

139

St. Francis

140

Kalimali

141

Bugalani

142

Kawaala Rd

143

CCE

Muluka I

Kawempe Division

Under a service provider (University)

144

Zone I

145

Zone 8

146

Zone 5

147

Mugoowa

Bwaise II

Periodic waste collection

Once a week

148

Katale

149

Tebuyoleka

150

Jambula

151

Mukalazi

152

Lufula

153

Nabukalu

154

Nakamiro

155

Mugoowa

156

Katale

157

Banda

Makerere I

Kawempe Division

158

Mukwenda

Kawempe Division

159

Mukubira

Kawempe Division

160

Mini Triangle

Kawempe Division

161

Bataka

Kawempe Division

162

Sekanyonyi

Mpereerwe

163

Sekati

164

Kiyanja

Kanyanya Parish

165

Lutunda

166

Wampamba

167

Kitambuza

168

Kikuubo

Kanyanya Parish

Kawempe

169

Central

Komomboga

Kawempe

170

Kwata

171

Katalemwa

172

Kanyanya Komomboga

173

Kibaawo

Mulago I

Kawempe

174

Upper Mawanda

175

Buttaka Bukirwa

176

Owen Road

177

Tufnel Village

178

Hospital Village

179

Doctor's Village

180

National Housing & Medical Quarters

181

Katale

Mulago II

Kawempe

182

Kiwovu

183

Triangle

184

UEB

185

Nalwewuba

186

Kafeero

187

Bakery

188

Katale

Wandegeya Parish

Kawempe

189

Kimwanyi

190

Soweto

191

Busia

192

Kalerwe

Mulago III

Kawempe

193

Nsooba Upper village

194

Lower Nsooba

195

Nsooba East

196

Kifumbira

Periodic waste collection

Once a week

197

Kalerwe

Mulago III

Kawempe

198

Nsooba Upper village

199

Lower Nsooba

200

Kifumbira

201

Zone 7

Muluka IV

Kawempe

Under a service provider (University)

202

6A

203

U. Hall (UH)

204

6B

205

DA HAMMERSOLD

206

Nammere

Kawempe II

Kawempe

Periodic waste collection

Once a week

207

Mugalu

208

Ttula

209

Ssebagala

210

Kiganda

211

Africa Village

Muluka III

Kawempe

Periodic waste collection

Once a week

212

Nsibirwa Village

213

Nkrumah

214

Mitchel

215

C/person II

216

Zone II

Muluka II

Kawempe

Under a service provider (University)

217

Zone IV

218

Mary Stuart

219

Livingstone

220

Lumumba Hall

221

Corner Zone

Kazo - Angola

Kawempe

Periodic waste collection

Once a week

222

Kazo – Angola central

223

Lugoba

224

Dungu Zone

Kikaya

Kawempe

Periodic waste collection

Once a week

225

Kikulu

226

Kisota

227

Kanisa Zone

228

Kikaaya A

229

Kikaaya B

230

Katale Zone

Kyebando

Kawempe

Periodic waste collection

Once a week

231

Kanyanya Quarters

232

Erisa Zone

233

Kisalosalo

234

Kyebando central

235

Nsooba Zone

236

Kinawataka

Mbuya I

Nakawa

3 times a week

237

Zone 1

Mutungo I

Nakawa

Once a week

238

Zone 2

239

Zone 3

240

Zone 4

241

Zone 5

242

Nugulu go down I

Nagulu I

Nakawa

Twice a week

243

Nugulu go down 2

244

Nugulu go down 3

245

Mulimira

Bukoto I

Nakawa

Once a week

246

Kirombe Zone A

Butabika

Nakawa

Twice a week

247

Kirombe Zone B

248

Butabika Hospital

249

Kisenyi I

Luzira

Nakawa

Twice a week

250

Kisenyi 2

251

Kisenyi 3

252

Agaati

253

Mawejje

254

Mambo Bado

255

Kamwanyi

256

Panda Pia

257

Balintuma zone

Kiwatule

Nakawa

Once a week

258

Central Zone

259

Miwanda Amis Zone

Nakawa

Nakawa

Three times a week

260

Ssentamu Kavule

261

Nsimbekazi

262

Zone B1

Banda

Nakawa

Twice a week

263

Zone B3

264

Zone B9

265

Zone B10

266

Kiwalimu

Nagulu 2

Nakawa

Once a month

267

Kasenke I

Nagulu 2

Nakawa

Twice a week

268

Kasenke 2

269

Kasenke 3

270

Kasenke 4

271

Kasenke 5

272

Kigoowa 1

Bukoto 2

Nakawa

Three times a week

273

Kigoowa 2

274

Zone 6

Mbuya 2

Nakawa

Twice a week

275

Nakawa Market

Nakawa

Nakawa

276

Bugoloobi Market

Bugoloobi

Nakawa

277

Luzira Market

Luzira

Nakawa

Four times a week

278

Kiswa market

Kiswa

Nakawa

Three times a week

279

Bukoto Market

Bukoto I

Nakawa

Three times a week