Collapsed building in Kiwempe zone
PUBLISHED — 12th, May 2020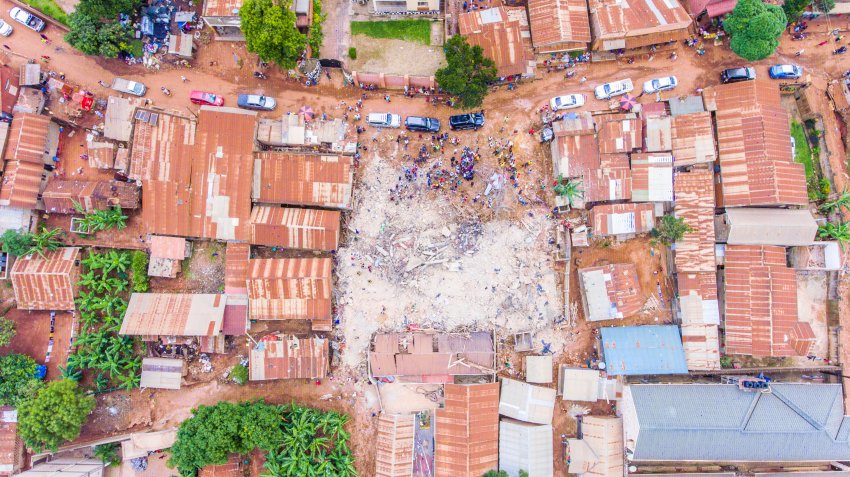 12TH MAY 2020
PRESS STATEMENT ON THE COLLAPSED BUILDING IN KIWEMPE ZONE, LUKULI MAKINDYE DIVISION
On Sunday 10th May 2020, a structure under construction a building in Lukuli Parish, Kiwempe Zone Makindye Division Kampala collapsed killing 12 people and injuring 4 others.
A response team composed of KCCA and Uganda Police was dispatched immediately to the site.
Details of the site visit;
1. The developer is Mr. Kalanzi Abraham who was illegally undertaking construction works on the site.
2. The building at the time of collapse had reached 5th level and finishes were being undertaken.
3. A notice had been issued to the developer on the 13th March 2020 with explicit instructions to immediately halt all ongoing construction works. At the time of notice issuance, construction works were on going in preparation for casting the first floor slab and the developer was instructed to avail copies of the approved plans to the Authority.
4. Though works had initially been halted following receipt of the notice, the developer took advantage of the COVID 19 lockdown period to resume and accelerate construction works on site.
5. It is evident builders were also currently camping within the same building at the time when the structure collapsed.
6. Visual inspection of the collapsed material showed signs of poor workmanship with indicators such as honeycombs within the concrete.
7. It is suspected that the accelerated construction works did not allow sufficient time for the concrete to cure and gain adequate strength and this combined with the weight of the floors could have eventually led to the collapse of the building.
8. Through various interviews with the locals and area Leadership, it is reported that there were no qualified professionals supervising the construction works at the time of the collapse.
Conclusion
Despite issuance of a notice, the developer did not comply with any instructions raised and continued with construction works over the weekends and during the Covid 19 lockdown period.
Recommendation
A detailed follow up investigation on the building materials and workmanship is ongoing and KCCA and National Building Review Board will provide findings.
The Authorities are looking for the developer to account for undertaking illegal works.
ENDS.