Kampala's Air Quality Is Six Times Worse Than Global Standards
PUBLISHED — 17th, September 2018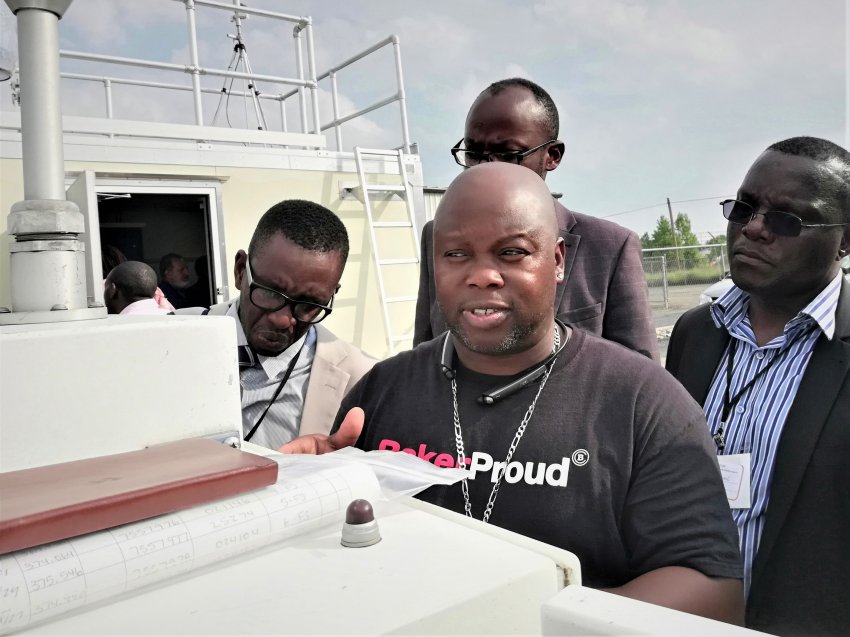 A team from KCCA, NEMA & MUK led by KCCA'S Deputy Executive Director, Samuel Sserunkuma visited an air quality monitoring plant in the Department of Environmental Quality, Detroit, Michigan in August 2018.
Just imagine you waking up one morning to a room filled with fumes from a firewood stove or kerosene lamp left burning overnight! You are hardly breathing, and are choking with fumes emitted throughout the night! That is where Kampala is heading if nothing is done about controlling the quality of air we breathe.
Today Kampala's air quality index measured at Nsambya (a city suburb) by the air pollution monitor on September 5, 2018 at 10 A.M is six times higher 162(𝜇g/m3) than World Health Organization Air Quality Guidelines 25(𝜇g/m3). This can also be contrasted with cities with clean air quality levels taken at the same time with Kampala's, yet these are some of the most industrialized cities in the World. Beijing, China's air is at 48(𝜇g/m3), Zurich, Switzerland at 21(𝜇g/m3), and Los Angeles, USA at 25(𝜇g/m3), all cleaner than Kampala. Kampala has a high concentration of tinny air particles small enough to invade even the smallest airways. These are scientifically known as Particulate Matter, 2.5 micrometers (PM2.5).
There is indication that air pollution in Kampala has increased in the last decade and that awareness about this problem is mounting. Exposure to contaminated air may narrow or block blood vessels and could lead to a heart attack, chest pain, stroke, or other respiratory diseases such as asthma, chronic bronchitis, lung cancer, and pneumonia.
"Kampala Capital City Authority has the mandate to develop regulations and laws that can help mitigate pollution. This requires the development of an adequate air quality monitoring and management system," said Jennifer Musisi, Executive Director. "KCCA is working with Makerere University Software Development Centre to develop tools, plus the school of Public Health Makerere University to monitor air quality around the city. These efforts are financed under the Kampala Climate Change project supported by the European Union," she said.
The Executive Director, further said, the Government of the United States is supporting KCCA to set up an air quality management program by building the capacity of its technical team. Some of the training includes air data visualization, and the application of air pollution data. To this end, a team of experts from KCCA, Makerere University and NEMA visited three states in the USA to benchmark on air quality monitoring and mitigation measures.
KCCA is now packaging a program to implement immediate actionable points such as, establishing a multi stakeholder air quality working group for Kampala City, in collaboration in several agencies. The working group will coordinate efforts to further strengthen monitoring and develop interventions to improve air quality in the City. In addition, the team will sensitize the public on practical steps to limit air pollution such as driving less, encourage walking, proper disposal of garbage; and more.
The Air Quality Index scale as defined by the Unites States of America Environmental Protection Agency's 2016 standards indicates that readings below 50(𝜇g/m3) show that the air quality is good with little or no health risk. Yet if the air quality gauge is 101 to 150(𝜇g/m3), people with respiratory diseases such as asthma plus active children and adults should limit prolonged outdoor activities.
It is thought that air pollution in Kampala is mostly caused by dust from unpaved roads, fumes from cars and open burning of waste. The Uganda National Environment Management Authority (NEMA), estimates that about 140,000 liters of fuel are burnt by idling cars every day worth 500 Million Uganda Shillings. Small scale industries also emit high levels of carbon. These are some of the causes of poor air quality in the city as cited in the Journal of Environmental and Public Health published in February 2014.