Five Roads and Several Junctions Completed in Just Two Years!
PUBLISHED — 23rd, May 2018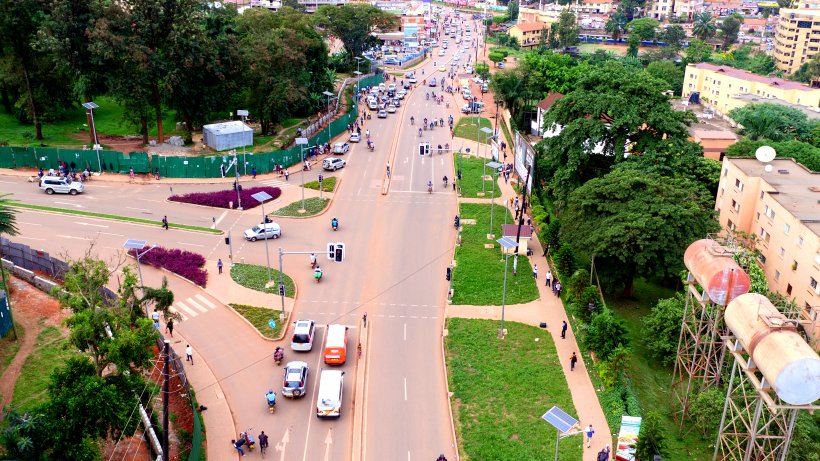 Testimonies of pleasant experiences on Kampala's new roads and junctions are the talk of town in several private and public arenas.
Many attest to reduced traffic jams, better security at night with street lighting, and the ability to walk safely to their homes and businesses using dedicated walkways and pedestrian crossings.
A number of road users however decry the unruly behavior of motorists, and boda bodas; and failure to observe road regulations. The appeal is for increased public education on road safety coupled with enhanced vigilance of law enforcers to curb reckless road behavior.
"In just two years, 21 kilometers of high quality roads and 12 signalized junctions have been constructed. We anticipate that the improved infrastructure has enhanced mobility and will cut down on travel time, costs and increase productivity and income of the working force in and around Kampala," says Charles Tumwebaze, the Project Coordinator of KCCA's Second Kampala Institutional and Infrastructure Development Project.
The project has so far completed the first set of five new roads and signalized junctions within Kampala. These include Bwaise junction and Mambule Road, Kiira road and Kabira junction in Bukoto, Makerere Hill Road – from Wandegeya to Nakulabye, and the most recent, Bakuli through Nakulabye to Kasubi Road. In addition to the above subprojects, Fairway Junction is a major connection point with high traffic volumes.
A massive public campaign was rolled out months ago by the Project Team to sensitize the public on proper use of signalized junctions, and adherence to proper lanes and signage. The objective of the campaign is to promote positive behavior on roads to ease the flow of traffic and ensure road safety. Traffic police is working to ensure adherence to road regulations.
The Project team continues to engage community leaders such as religious, cultural, political plus media managers as agents of change. Leaders are equipped with messages to relay to their communities about observing road regulations, respecting and protecting roads, junctions, streetlights and public property in order to transform Kampala City.
In July 2017, religious leaders from all denominations signed a memorandum to support KCCA's development agenda in making Kampala a better place. Leaders pledged to pass on messages to their congregations through sermons.
Looking Ahead
Several communities along proposed roads for the upcoming improvement have willingly allowed the project to construct the road on a portion of their property at no cost. The project Team is in the process of recruiting supervision and construction firms to upgrade and widen five more roads in Kampala.
Road construction for the last phase of this project is scheduled to commence later this year. Namely, Kulambiro Ring Road and Nakawa - Ntinda Road in Nakawa Division, Lukuli Road in Makindye Division, Kabuusu Kitebi Lweza road in Rubaga Division and Wakiso District, and John Babiiha road - former Acacia Avenue in Central Division.
Some of the testimonies concerning the new roads and junctions include:
"Big up for KCCA. [This] show[s] how much great work KCCA under Jennifer Musisi is doing. Amidst our quarrels…, a lot is being done on infrastructure in Uganda." Andrew Mwenda's Facebook post on Novermber 5th, 2017.
"I commend KCCA for remarkable improvements of infrastructure especially around Fairway and Kamwokya - Bukoto. These have given the city a new lease of life." Letter to the Editor, the New Vision Newspaper, February 2, 2017
'Mr Charles Sebambulidde, the spokesperson of the Kampala Metropolitan Traffic, says the new traffic lights have reduced congestion.' The Daily Monitor Newspaper, October 10th, 2017.
"I personally appreciate KCCA for those lights. Sanity is back on Bwaise road." Tweeter Post by Tumwesigye Humphrey on October 18th, 2017.