Makerere Hails KCCA for Improved Security
PUBLISHED — 05-Dec-2017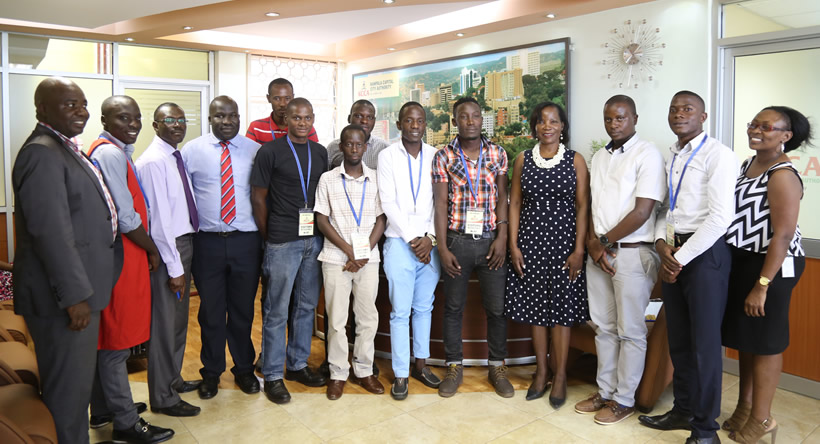 If one visited Makerere University prior to the reconstruction of roads, walkways and installation of lights, the story has changed. Changed for the better! This followed a fruitful partnership between Kampala Capital City Authority and Makerere University.

On a visit to KCCA this week, students appreciated the new developments at the Ivory Tower.

KCCA's Executive Director Jennifer Musisi appreciated the gesture saying, "I am pleased to learn that our work in improving city infrastructure is well received and is making life better for university students as they go about their studies." She said, "I am especially, delighted to hear that incidents of theft have significantly reduced due to enhanced street lighting and students are safer."

The KCCA Executive Director, called upon the Students to protect and properly utilize this new infrastructure. She advised the leaders to mobilize students to start self-help projects to further lift the face of the University.

A University delegation led by Faisal Lwanga, the Chairman of Makerere Soccer Fans said, "Madam, we thank you for all the roads and security lights within Makerere University. This has improved security and eased movement within the university. We are committed to rally behind every developmental and sport activity of KCCA." The student's Chairman, also decried persistent unemployment of graduates, and lack of funding for their project ideas.

Dr. Jennifer Musisi informed students about KCCA's programs in supporting the youth generate income. The Youth Empowerment Program equips youth with skills, plus startup capital for small investment groups. These programs are run through various Divisions. She too encouraged graduates to enroll in KCCA's Employment Service Bureau, to receive tips on how to compete favorably for employment. The fully computerized Bureau is open to the public, and is located in Nakarero, on Ssezibwa Road, Plot 1.

KCCA is constructing a perimeter wall along Makerere Hill road to further secure the University. However, students pleaded with KCCA to work with the management of Makerere University to construct a perimeter wall around the entire university to eliminate trespassers.

The construction of well-lit University roads, perimeter wall and the remodeling of the University Main Gate are a result of a negotiated in-kind compensation between KCCA and Makerere University Management. The University consented to offer some of its land for the upgrade and expansion of Makerere Hill Road, which runs from Wandegeya to Nankulabye. The works were implemented under KCCA's Kampala Institutional and Infrastructure Development Project with funding from the Government of Uganda and the World Bank.