Piloting a mobile sludge transfer tank in 5 parishes of Kampala
PUBLISHED — 28th, September 2017
Water for People in 2013 partnered with GIZ to improve faecal sludge collection and transport among households and communities in 5 parishes of Kampala City; Kanyanya, Kibuye I, Bwaise II, Mutungo and Nateete. Among the achievements of this engagement was the recruitment of 6 entrepreneurs of which 5 are still active to-date, and development of business plans for the entrepreneurs. The entrepreneurs were able to empty over 400 pit latrines by the end of the project period. One of the challenges to the gulper entrepreneurs and clients during the 2013 project was the high costs of gulping. The business model initially being implemented was deemed to be more expensive for some communities particularly due to transportation costs that are factored into the cost per trip made to dumping site, and thus borne by the client. The project recommended the need to have a system that will ensure affordable collection costs incurred by the client.

An idea of mobile sludge transfer tanks was conceived including; two 5000l grounded KCCA cesspool trucks which were modified into mobile transfer tanks, meant to transport sludge from the informal settlements where a conventional cesspool truck alone cannot serve, to the treatment plant. Gulper operators directly empty filled up sludge barrels into the mobile tanks, of which on fill- up the tanks are hauled using a tractor to the treatment plant for dumping. Sludge loading mechanism is purely manual, sludge from barrels is poured in an L-shaped loading trough which is then lifted using a winch and pulley system to the inlet at the top of the tank. During this pilot phase, the tanks serve the target areas of; Kanyanya, Mutungo, Kamwokya 2, Busega and Kibuye 1

With this model, prior sensitization is carried out and households in each parish are notified when the transfer tank and gulper operators will be in their area. For more effective community awareness, an advertising firm Nomad agency is currently carrying out a sensitization campaign dubbed 'wetaase'. The operational costs of the gulper pit emptiers in terms of transport and dumping charges has been significantly reduced and in turn cost of latrine pit emptying per 200l barrel has been brought down from more than UGX30,000 to UGX 20,000. Currently the two-available mobile sludge transfer tanks are used to serve all the 5 pilot parishes within Kampala on a rotational basis. Many households within these informal settlements have thus gained from this service within the first two piloting months.

An in depth Environment Impact Assessment of the mobile transfer tank service was conducted and it was ascertained that most of the related risks/ negative impacts were of low to medium intensity and could be easily mitigated including; foul odor during collection and transportation, Potential incidental spills and physical contact with the sludge by workers, slow movement of vehicles filled with sludge and noise during operations. A mitigation plan was developed to ensure control of the associated risks for a better service especially the health related risks, among which includes no spillage to the surrounding and safety gear by workers among others.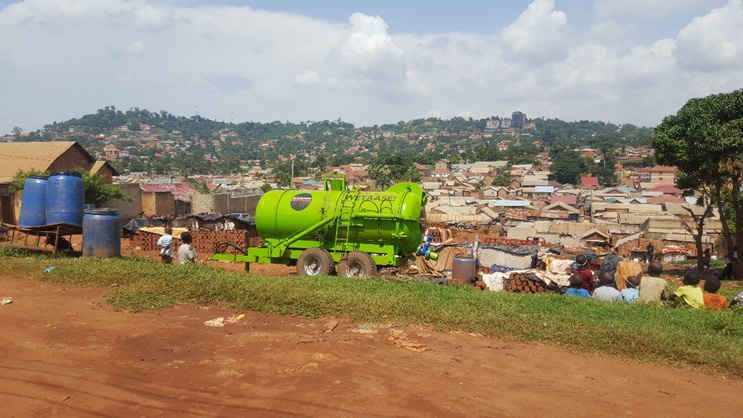 Transfer tank in one of the city slums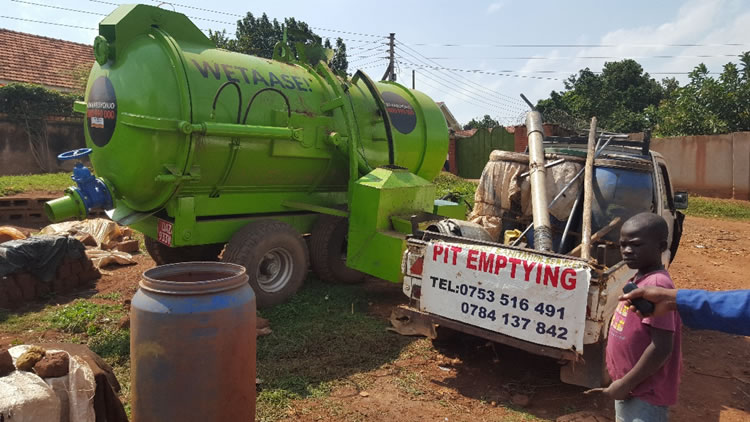 Gulper pit emptiers delivering faecal sludge to the tank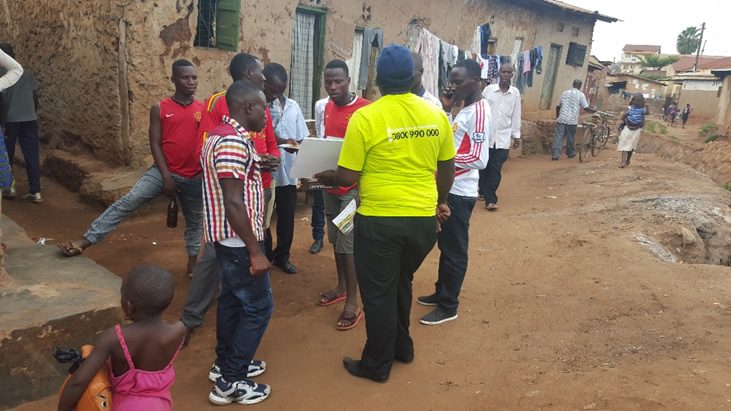 Door to door awareness campaign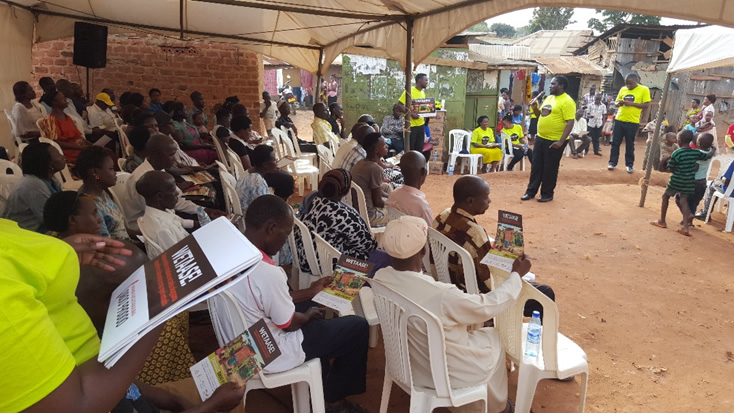 Community awareness barazzas