Senior UPDF Officers Hail KCCA and Pledge Support
PUBLISHED — 25th, April 2019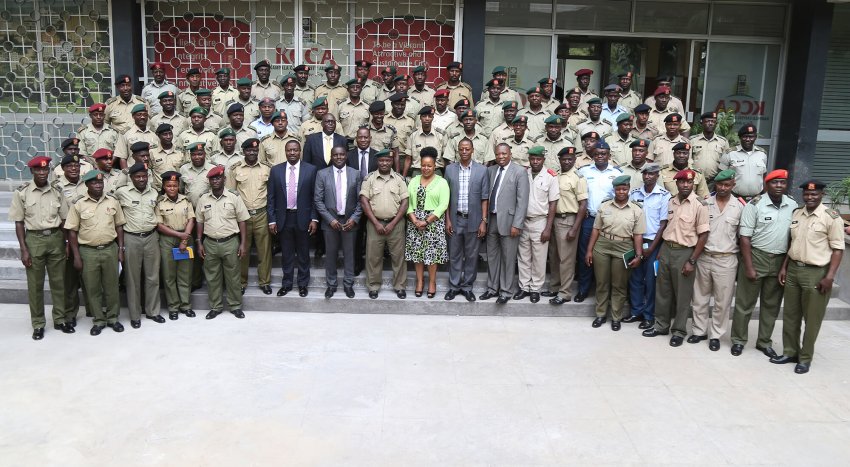 The value of hearing from clients and citizens is invaluable. About 80 senior UPDF officers, most of them residents of Kampala visited KCCA to learn about its operations in the city. The senior military officers are students and instructors of the Uganda Senior Command and Staff College in Kimaka in Jinja. Also present were senior military officers from Kenya, and Burundi.
The one-day visit included a presentation of KCCA's organizational policies, programs, and strategies led by the Acting Executive Director of KCCA, Eng. Andrew Kitaka. He said, "You are visiting us at a time when KCCA is marking eight years of service. Our journey started in 2011 with the objective of delivering quality services to resident, in order to make Kampala a vibrant, attractive and a sustainable city."
The head of the army delegation, Simon Onyinge said the objective of this benchmarking tour is to analyze how other organizations have achieved their high performance levels, with the view to use this information to improve the performance of UPDF. He said, the army officers would visit Uganda Revenue Authority and Uganda Industrial Research Institute, after KCCA.
The tour was hosted by KCCA's Executive Director who said, "In just 8 years of KCCA's existence, revenue collection has risen from 30billion to 90billlion shillings. This is an impressive achievement by any standards, nearly a 200 percent increase in KCCA's income." He attributed the rise in revenue to the streamlining of financial management systems and the simplification of fees payment implemented by KCCA over the years. Clients now use electronic and mobile phone platforms for payment.
Eng. Kitaka said, the city's day population of approximately 5 million puts a strain on existing city infrastructure and services. He mentioned some of the services the city offers are road maintenance, street lighting, sanitation, garbage collection, medical and education services. He said, these services are financed using revenue collected from business licenses, property rates, ground rent and more.
This benchmarking trip included a tour of the Traffic Control Center in KCCA where all new road junctions are monitored to ensure that traffic flow is uninterrupted. The Army Officials also visited KCCA's agricultural demonstration farm in Kyanja to learn how to practice urban farming in limited spaces such as verandas, and compounds.
Some of the questions the officers raised during the question and answer session with the Executive Director of KCCA concerned: noise pollution, sanitation, road construction, public transportation, traffic management, and the enforcement of law and order in the city. Eng. Kitaka thanked the UPDF for their support in constructing KCCA schools and pledged to foster that collaboration in other city development efforts. In closing, the army was appreciative of KCCA's achievements and pledged to continue supporting KCCA in delivering quality services to residents of Kampala.