KCCA Hands Over New Roads, Buildings, Gate and More to MUK
PUBLISHED — 16th, November 2018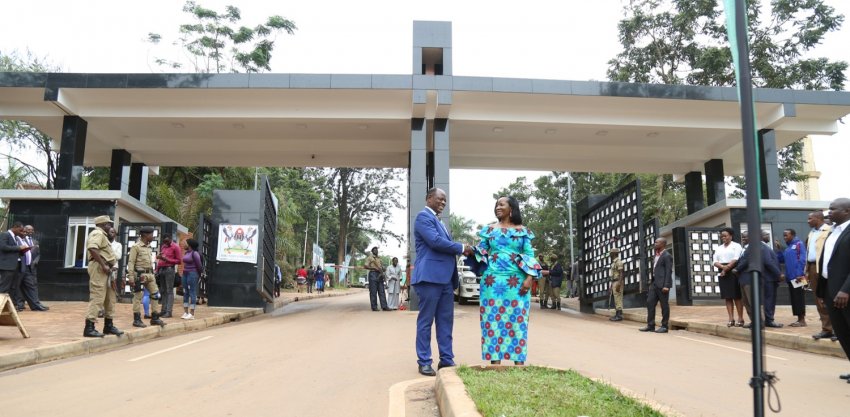 Uganda's leading University boasts of a robust road network, buildings and structures. Most of the new infrastructure is a result of a negotiated in-kind compensation between KCCA and Makerere University Management.
The University consented to offer some of its land for the upgrade and expansion of Makerere Hill Road, in exchange of new infrastructure. The works were implemented under KCCA's Kampala Institutional and Infrastructure Development Project with funding from the Government of Uganda and the World Bank.
The overall cost incurred by KCCA for constructing all new infrastructure is UGX6.9Billion - 9 roads, drains, walkways and street lights; 3-storied administration and classroom building for Makerere College School; renovation of the hospital; and the construction of the Main gate.
The Installed Infrastructure Includes;
Nine (9) roads (3.5kilometers long) were reconstructed with inbuilt drainage and large car parks. The reconstructed roads are around University Hall, Mary Stuart Hall, Lumumba Hall, Mitchel Hall, Livingstone Hall, and the Institute of Technology.
Paved walkways and street lighting aimed at securing students on campus.
A newly reconstructed and beautified Main Gate that is serviced by several lanes and regulated by traffic lights to improve University access.
Pedestrian crossings regulated by traffic lights to keep students safe from speeding cars and motorbikes.
A perimeter wall to enhance safety of the university. The wall runs from Junju Road to Sir Apollo Kaggwa Junction.
A three (3) storied modern administrative and classroom block at Makerere College School.
Newly erected retaining walls to safeguard the Makerere Law School and Makerere College School from noise and dust from the nearby road.
Renovation of Makerere Hospital building and parking thereby improving the aesthetics around the hospital.
Benefits of the New Infrastructure
Enhance aesthetics around the University, the Law School and Makerere College School leading to a conducive environment for academic excellence.
Enhanced safety and security of students – perimeter wall, well lit streets, walkways, and push buttons at traffic junctions.
Easy access of the university with regulated traffic flow; a beautified Main Gate containing all historical artifacts such as the emblem; plus professional landscaping, trees and vegetation.
Reduced accidents with a Pedestrian crossing installed at College School.
Serene environment with noise and dust barriers at the Law School and College School.
Appeal and Call to Action
Report any damages, repair requests and replacements to the Estates Department, MUK. They are responsible for the maintenance of the refurbished infrastructure.
Protect public property - All students, administrators, teaching staff, workers are responsible for safeguarding this infrastructure.
Follow road regulations and use the pedestrian push button found at traffic lights.
Keep all streets, drains and lawns clean and avoid littering.
Be alert and stay safe. Report any suspicious persons, vandalism or thefts to MUK authorities.