140 People Okay Construction of Lubigi Drainage Channel
PUBLISHED — 31st, May 2021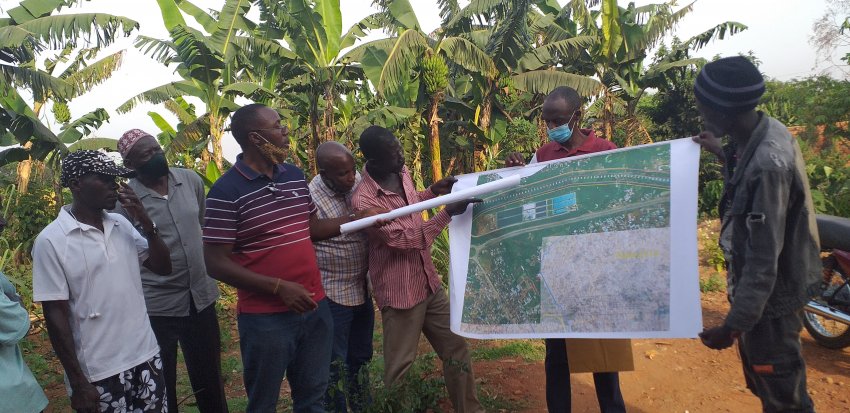 Wetlands in Kampala have decreased by 50 percent, in the ten years between 1995 and 2005, this degradation comes in several forms, cultivation, infilling, construction and pollution. When it rains in Kampala, low lying areas are adversely affected by flooding. Properties are destroyed and lives lost. It is for this reason that KCCA is widening and constructing drainage channels to manage the huge volumes of water.
KCCA has constructed and restored several drainage channels such as Nakivubo Channel to drain the water away from the wetland but allow it to still travel on its natural path. Two more channels are under construction - Lubigi and Nakamiro drainage channels, with an anticipated completion date of end of 2021. The drainage works are financed by the Government of Uganda and the World Bank. This work is implemented by KCCA under the Second Kampala Institutional and Infrastructure Development Project (KIIDP 2).
Project Affected Persons
All owners of 332 properties affected by construction works along Nakamiro Channel were compensated. Likewise, about 140 properties of the residents along Lubigi Channel were valued by the Chief Government Valuer. The affected property owners are presenting documentation for payment, ahead of construction of sections of Kawaala and Nabweru along Lubigi channel. The Bwaise section of Lubigi channel does not have properties affected, because these were compensated under KIIDP 1 in 2011. However, the Project engaged the community of Bwaise-Lubigi to ensure that the boundaries of the channel are clear.
Initially, an oversight was made regarding the presence of residents along Lubigi Channel. The drainage corridor was acquired and property owners compensated under KIIDP 1. KCCA has since engaged all affected persons and assured them of compensation and dispelled wrong information. These meetings attracted 98% of the targeted residents and were organized with the support of local leaders.
A number of property owners along Lubigi are eager to relocate to new residential areas, away from the channel, once their properties are compensated by KCCA. Meanwhile, some residents are expecting to reap the benefits of improved drainage channels, such as reduced flooding, reduced disease, improved livelihood and increased productivity of residents.
Lubigi Channel is 2.8 kilometers long. It's being expanded and lined with concrete from Bwaise to Kawaala using the already acquired drainage corridor of roughly 40 meters. The section from Kawaala bridge to Hoima road will be widened to roughly 70 meters. While, Nakamiro; 3.2 kilometers is being expanded and lined with concrete from Kazo Angola to Lubigi. The channel will have an average width of 7 meters. There will be provisions for pedestrians to cross the channel safely. Another major drainage channel in Kampala is Nalukolongo. The design of the drainage channel is being reviewed. In addition, the Environmental and Social Impact Assessment (ESIA) and Resettlement Action Plan (RAP). It will be about 30 meters wide. The channel starts from Kibuye and ends at Busega, about 7 kilometers long.