President Flags Off New 8km Road in Greater Kampala
PUBLISHED — 25th, July 2019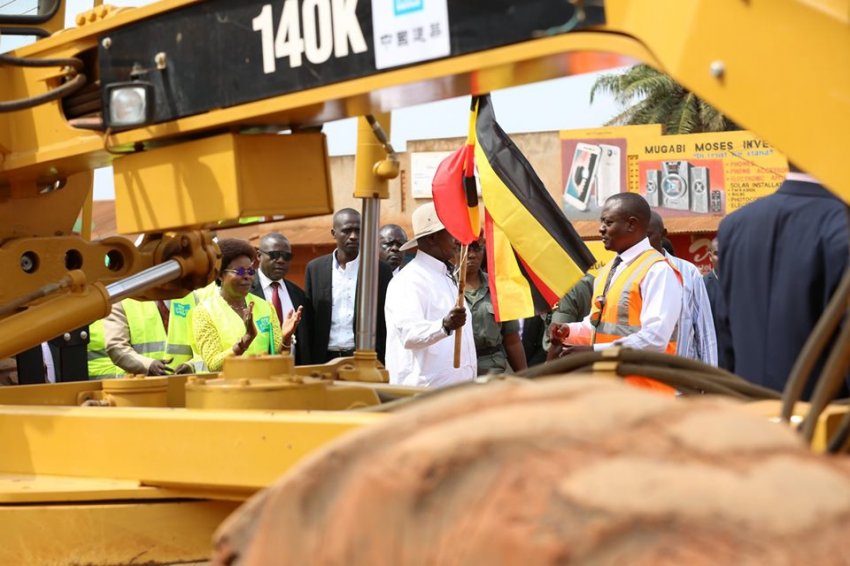 About 3.5 Million people flock Kampala city daily for work from neighboring districts. Most people spend hours traveling to and fro work due to traffic congestion and limited road networks.
KCCA is addressing this bottleneck by working with Kiira, Wakiso, Entebbe, Mukono and Mpigi municipalities to create quality alternative routes to connect the Greater Kampala and improve productivity.
On July 19th, 2019, the President of Uganda, Yoweri Museveni flagged off the construction of an eight kilometer road stretching from Kabuusu-Bunamwaya in Rubaga Division in Kampala to Lweza in Wakiso District. The road will connect to the Kampala Entebbe Expressway and the Northern Bypass.
The President said, "Everyone should take advantage of this new infrastructure to generate wealth." This road will ease mobility and promote production and businesses. It will cater for the ever increasing number of cars entering and leaving the city and reduce production time lost in travel.
The road construction is estimated to cost 97 billion Shillings. It is financed under the second phase of the Kampala Institutional Infrastructure Development Project and administered by Kampala Capital City Authority. The construction of the road began in May, 2019 with relocation of utilities, review of road designs, and securing land along the road corridor for construction. The tarmacked road is expected to be completed within 15 months. It will have drainage, walkways, street lights and fitted with traffic lights at some junctions.
The 'construction-flag off' ceremony was hosted by the Minister for Kampala, Honorable Beti Kamya and KCCA's Acting Executive Director, Engineer Andrew Kitaka at Aggrey Memorial School, Makindye. It was attended by key religious, political and community leaders plus about 400 people living along the Kabuusu-Bunamwaya-Lweza road.